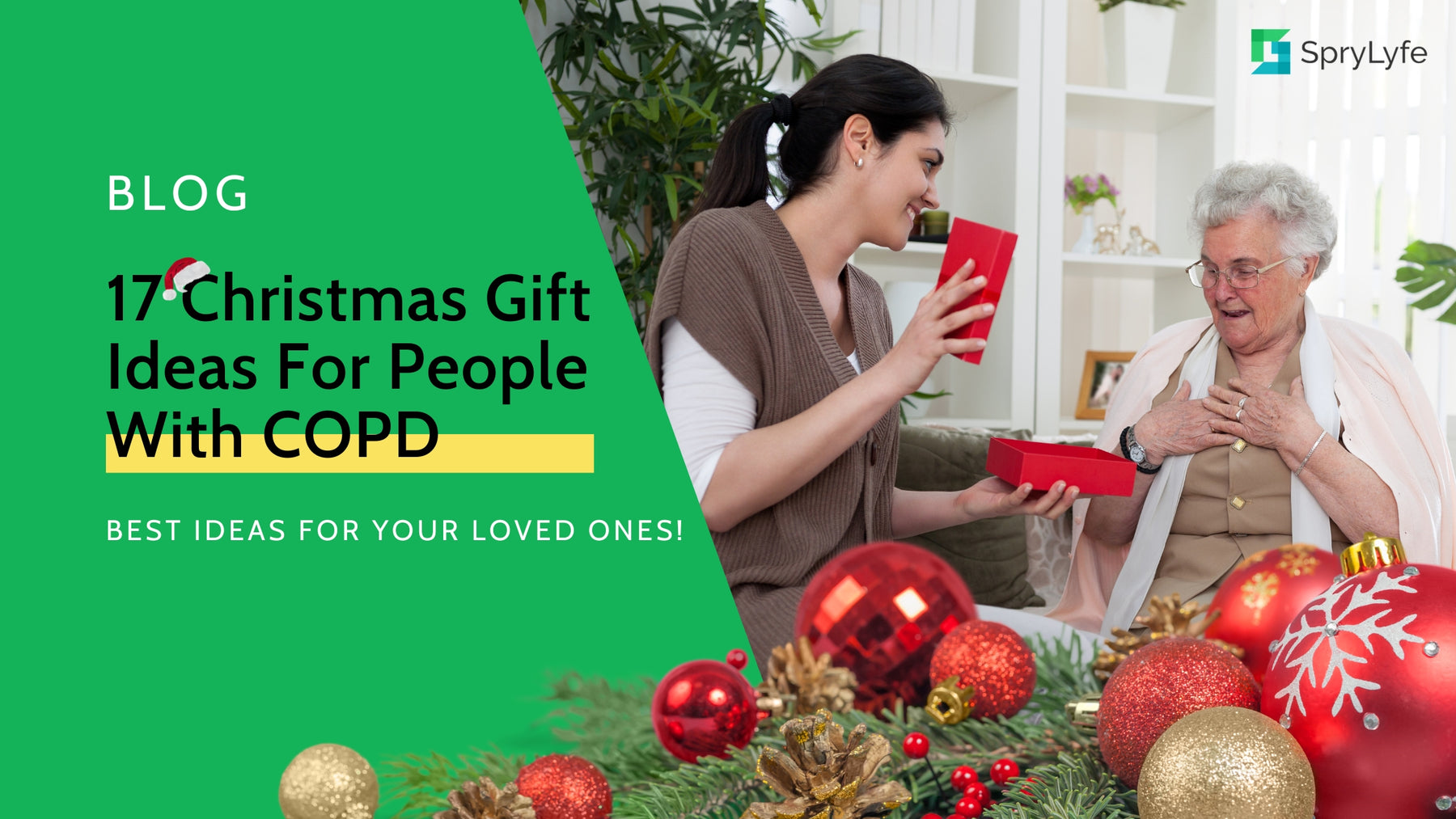 17 Christmas Gifts For Someone With COPD
For some people, planning Christmas gifts is a fun thing to do. At the same time, some may find it daunting, especially if you need to figure out what to give to your loved ones based on their current needs. Whichever of the two you belong to, you will find this list of Christmas gifts for someone with COPD helpful during the holidays.
17 Best Christmas Gifts For People With COPD
Here's a quick list of the gifts that you can give to someone with COPD during this time of the year:
Christmas falls in the cold months, which is why knitted items are popular gift ideas. People love to give knitted scarves, blankets, hats, mittens, and more. It also makes it feel better to snuggle and feel cozy with your friends or family during the holidays.
Keeping warm is important to the person with COPD as cold air may worsen their symptoms, such as shortness of breath, bronchospasm, and flaring up. 
That is why they must stack up on warm and cozy clothes they can wear when it's too cold outside. The warmth also adds to the essence of Christmas every December.
People with COPD must live a healthy lifestyle to keep their bodies strong. Fortunately, there are many COPD-oriented cookbooks that you can get for your loved ones with COPD.
In this way, you can encourage them to enjoy eating healthy instead of just eating bland vegetables. These books can help them become more tolerant of a healthy lifestyle and manage their disease.
Usually, these books include intake strategies based on your nutritional needs, foods to avoid, and a list of ingredients best for people with COPD. 
Listening to music and audiobooks can be a great source of entertainment, and this will be highly beneficial for people with COPD. Portable oxygen concentrators can also be loud sometimes, which is necessary for their condition. They can connect their wireless earbuds to a computer or TV to hear the programs over their POCs. 
There are many wireless earbuds available out there that you can get, ranging from the most popular brands down to the more generic ones.
COPD patients need to keep up with their oxygen levels even if they are always at home. This is where an FDA approved pulse oximetry monitor will be helpful. They are much cheaper right now and work well in monitoring oxygen saturation.
You can buy this without a prescription at leading online stores right now. They are also a must for people with lung conditions. 
Blood pressure monitors are essential for ensuring lifestyle changes when one administers medication directly into the COPD patient. Patients with COPD can experience complications from their medications, and this tool will help them manage that better. 
Nebulizers are essential for people with respiratory problems. It works by clearing up the COPD patient's airways so they can breathe easier.
People with asthma commonly use this equipment during one of their attacks. They are a short-term tactic until the person can get enough oxygen supply again. 
COPD patients must breathe clean air to prevent flare-ups, so it's a top priority that the air they breathe indoors is free from pollution and dirt. Air purifiers make an excellent Christmas gift to your loved ones and may help minimize symptoms related to COPD.
High-quality air is one of the best things you can give people with breathing issues. There are many airborne particles out there that are just waiting to attack. Clean air can improve sleep quality, allergy symptoms, and overall health. 
One of the essential things for people with COPD patients is to maintain an active lifestyle as much as possible. A regular walk outdoors is enough to keep their airways toned and open while keeping their muscles and joints strong.
Exercise also helps develop a restful sleep, improving mood, comfort, and quality of life. However, not everyone can quickly go outside or live in a walk-friendly neighborhood. If you have the budget, you can give someone with COPD an exercise bike this Christmas.
This will keep them occupied instead of sitting all day. They can also use it while watching their favorite shows, all without leaving the comforts of their home. 
Robes are a typical indoor outfit because they are soft, comfortable, and sometimes feel luxurious, depending on their material. It also works excellent in drying you off right after baths and showers.
People with COPD may appreciate a cozy robe that wraps them after getting out of the show before they can change into something new for the day. 
This might not look as posh as the others, but they are certainly just as helpful. People ignore many things in life, and that is the advantage of having a grabber.
Sometimes, getting up from the couch or the bed is exhausting, especially for COPD patients. A grabber can help them reach out to things without leaving their comfortable positions. Now, that is what we can call efficiency. 
No one can go wrong with an excellent pair of cozy slippers. You don't want your feet touching the cold floor, nor do COPD patients. Not only do they make a good Christmas gift, but you can also give them to someone just coming out of a hospital from their chronic lung condition.
They can use comfortable slippers to walk around the house or quickly run outdoors to get their packages.  
Some people who experience shortness of breath report that standing in front of a fan helps with their breathlessness. In that case, a handheld fan may help. They can quickly bring them around even when they are going outdoors.
Handheld fans are also not expensive, so they would be within budget for your Christmas gifts.
Adult coloring books are making a comeback in the past years, and they are great gifts for people with COPD who spend the majority of their time at home with minimal things to do. Coloring can be a good brain stimulator and enjoyable for some. You can also give them coloring pencils and have them explore their artistic side.
As much as people with COPD want to keep their houses clean and free from dust, such efforts may contribute to their shortness of breath. Vacuums make an excellent gift, but they still need someone to operate them and roll them around the house.
If you feel generous this Christmas, you can give them a Roomba. They are expensive, but they will benefit your loved one with COPD. They are automatic and ensure the floor is free from allergens and dust that may affect your lungs.
Roombas are ultimately making it easier for people with COPD to maintain a clean home. 
Books are undoubtedly helpful for people who suffer from COPD. They can learn many things, such as tips and advice on managing their disease and living a whole life with it.
There are self-help books available for smokers to help them quit the vice and take care of their lungs better. Based on the book you get, they may also include strategies to improve their oxygen intake, necessary nutrition for their condition, breathing techniques, and more.
If the person you have in mind loves reading, you can get them books, even if it is unrelated to COPD. You can ask them for their preference and base your gift on that. Books make thoughtful gifts, and there is a wide selection of genres and topics that you can choose from. 
Portable oxygen concentrators are essential medical equipment for people with COPD, as it helps with their oxygen intake. Unfortunately, some of its accessories are pricey, and one cannot get a total supply.
If you can, give your loved one portable oxygen concentrator accessories they can use for a better oxygen therapy experience. 
Lastly, you can give someone with COPD a new portable oxygen concentrator. Sure, they can be expensive if they are brand new and from a trusted brand, but they make a difference in the quality of life of COPD patients compared to oxygen tanks.
Sprylyfe offers a wide range of POC products that you can choose from. There are large machines down to the smallest available in the market today. You can also get them at discounted prices that you wouldn't get anywhere else.
How To Choose Holiday Gifts For Someone With COPD?
When thinking of a holiday gift for someone with COPD, here are some of the factors you can consider to come up with the best one
Needs
The first thing you should consider is their needs. If you are close to them, you may know the specific things they need in their life. It may be related to their oxygen therapy or something that will be helpful in their everyday lives.
Some things that you can get them are a new portable oxygen concentrator, accessories, tubing, and a nasal cannula.
Interests
If you are unsure what oxygen therapy-related gifts to give them, consider giving them something they enjoy. This may be an easy gift if you know what makes them happy, like a simple scrapbook, adult coloring book, or a subreception from their favorite entertainment.
The list goes on, and you don't always have to spend hundreds of dollars to make them feel satisfied with your gift.
Budget
When giving Christmas gifts, you don't always have to go overboard. You can work with your current budget and provide something that would make them happy. You can choose something quirky or a handmade item. The possibilities are limitless.
Convenience
As much as possible, give them something that would be convenient. You won't want to provide them with the latest gadget if you know they are not tech-savvy. The intention might be correct, but the gift can instead be a burden for them.
It would be better if you avoid gifts that would force them to go outside, such as vouchers to salons and spas. You may give them a gift they can use in the comforts of their own home or even make them feel better, such as a cozy robe, slippers, and a blanket.
Impact
Lastly, it would help if you considered the gift's impact on the recipient. Are they going to be happy? Satisfied? It doesn't always have to be grand. They can still appreciate a simple present if you've given it enough thought and effort.
You can give them a photo album or an adult coloring book if you know that they enjoy those kinds of things. 
FAQs About Gifts for COPD Patients
What items should be kept away from oxygen equipment?
You could keep your supplemental oxygen equipment from anything that is flammable and produces fire. Although portable oxygen concentrators are generally safe, they may still have heat that supports combustion. 
You should also avoid using your machine near anything that may trigger sparks and lead to a more significant fire. This includes heaters, stoves, hair dryers, heating pads, and lighters. 
What do you give someone with lung disease?
The best gift that you can give to someone with a lung disease like COPD is one that suits their needs. If you have the budget, you can provide them with oxygen-related gifts, like POC accessories, extra batteries, cannulas, tubes, and masks.
You can also give them something personal they can use every day or something that makes you think of them that will immediately trigger a specific memory. It depends on how well you know the person who has COPD and what kind of gifts you think they will like.
Make Someone's Christmas Merrier With SpryLyfe!
You can get many things for your loved ones during the holidays, and you don't have to stress about it. If you are still deciding what to get for a Christmas gift for someone with COPD, you can always refer to the list above for recommendations. 
References:
Written by Andy Flynn
 

Andy Flynn is the founder of Sprylyfe, the leading retailer of portable oxygen concentrators in the United States. He also co-founded ARYA BioMed.

Get to know him on LinkedIn.
Medically Reviewed By Aaron Gravely, M.D.
 

Aaron L. Gravely, M.D. is a professional medical writer and physician-scientist with over 8 years of experience in healthcare and medical research.

Get to know him on LinkedIn or read his published works.