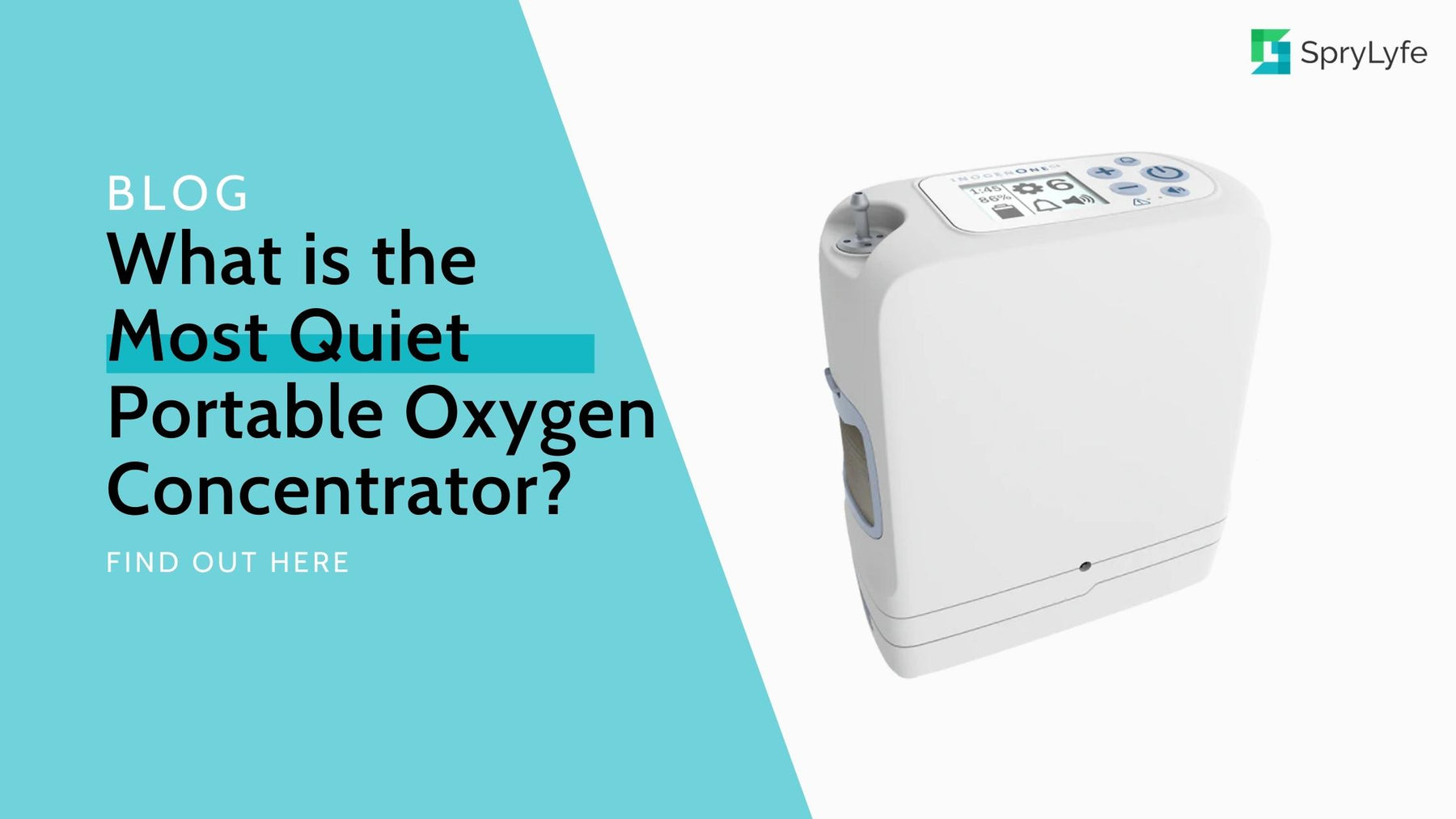 Most Quiet Portable Oxygen Concentrator [2023 Update]
Take some time off and learn the most quiet portable oxygen concentrator you can find in the market today. Noise level is a perfectly valid concern for oxygen patients, so this is the perfect chance to pick the right product that will make your day-to-day life easier.
Read through this article to discover the quietest concentrator for you!
What Is the Most Quiet Portable Oxygen Concentrator?
The quietest portable oxygen concentrator you can find is the Inogen One G5 and GCE Zen-O Lite, with an impressive 37 dBA sound level. While portable O2 concentrators are small, compact, and extremely quiet, they are still efficient and reliable oxygen devices. You can easily find other quiet POCs with various decibel ranges in the market.
Inogen One G5
GCE Zen-O Lite
It is pretty challenging to choose a portable oxygen concentrator that is quiet and meets all your oxygen needs. Fortunately, as technology continuously progresses, so do portable oxygen concentrators. The most silent POC units today also tend to be light and reliable.
What Sound Level to Choose to Have a Quiet O2 Concentrator?
Newer portable oxygen units tend to produce lower noise levels than older models. The average decibels of a quiet home is around 40 dBA. Therefore, you will find that most models, particularly larger ones, create a low hum that is not that much louder than a refrigerator.
Most oxygen manufacturers aim to create O2 concentrators with 40-50 dBA noise levels, though you can find ones around the 37-39 dBA range. Amongst the most popular units that fall within that decibel range are the sequal equinox (45 dBA) and Inogen One G5 (37 dBA).
5 Benefits Of A Quiet Portable Oxygen Concentrator
POCs do not simply hold and release oxygen like oxygen tanks. They have several components and thus, have the potential to create noise of various degrees. Below are a few reasons you would want to invest in a quiet oxygen concentrator!
Decreased Anxiety
Several people experience noise anxiety. It is a very real thing and not just something they choose to complain about. Whether it's dogs barking or loud construction noises, being exposed to annoying sounds can cause a significant distraction to someone's daily life. A persistent high pitched noise that some POC produces is one such example of a noise that can cause anxiety. 
More High-Quality Sleep
People with COPD will need long-term oxygen therapy. It means they need to use their oxygen concentrators all day and night, even while sleeping. Light sleepers with noisy POCs will lead to a bad night and reduced sleep hours. Investing in a quieter oxygen unit can give you higher quality and better sleep. 
Learn more about sleeping with a portable oxygen concentrator here.
Easier To Travel With
With a quiet portable concentrator, you can easily travel to more places! A noisy POC can cause disturbance no matter where you go.
It can also make you feel more conscious when spending time with friends and family. Either way, a concentrator with lower sound output can give you more freedom to do your daily activities. 
Better Mood 
Another benefit of a quiet POC is a better and enhanced mood. Since you will be sleeping better and more soundly, you will undoubtedly display a better mood the following day. You will demonstrate better memory and self-esteem and have a more positive outlook on life. 
Improved Quality Of Life
Aside from better sleep and mood, a quiet portable concentrator can increase your mental stamina and alertness. It will allow you to be more productive during the day.
With a quiet POC, you can go out more without much worry of disturbing anyone. It means you have more freedom and independence to be social. 
Quietest Portable Oxygen Concentrators on The Market
Today, the market is brimming with efficient and cheap portable oxygen concentrators. It is now a matter of choosing the perfect fit for you. Here are some of the quietest and more affordable oxygen units you can consider.
Zen-O Lite is a pulse dose portable concentrator with a 37 dBA noise level. With this concentrator, you would not have any problems going to public spaces and areas. Weighing 5.5 pounds, you have the option of slinging it over your shoulder without causing much pain or soreness.
With its quiet operation, it serves as a great nighttime oxygen concentrator. If you need oxygen while you sleep at night, you can keep this device near your bed without worrying about it waking you. 
GCE Zen-O Lite

Sound Level

37 dBA

Dimensions

9.25" H x 9.8" L x 3.8" W

Weight

5.5 Pounds

Flow Rate

0.05-5 (Pulse Flow Setting)

Delivery/Flow Type

Pulse Flow

Battery Life

Up to 4 Hours on Pulse 2
Pros
Multiple Pulse Flow Option 

Energy Efficient

Rate Responsive Therapy

FAA Approved
Cons
Only has Pulse Flow settings

Optional backpack is not included
Despite being released years ago, Inogen One G5 remains one of the most popular choices for oxygen therapy patients who wish for a reliable, lightweight, and cheap portable oxygen concentrator. It is notably quieter than Inogen One G3 and G4, making it easily one of the quietest portable oxygen concentrators today. 
On flow setting 2, this device produces only 37 dbA sound level, comparable to a gentle stream or hush conversation. It means that it would not cause any considerable disruption in your daily life. You can go out to see a movie, read in the library, or attend church service without worrying about disturbing other people by the sound.
Inogen One G5

Sound Level

37 dBA

Dimensions

8.15" H x 7.19" L x 3.26" W

Weight

4.7 Pounds

Flow Rate

210ml/min (Flow Setting 1) up to 1260 ml/min (Flow Setting 6)

Delivery/Flow Type

Pulse Flow

Battery Life

6.5 Hours (Single Battery)

13 Hours (Double Battery)
Pros
Long external battery life

Lightweight

FAA Approved

For 24/7 use
Cons
A bit expensive

Only offers Pulse Flow
Joining the award-winning collection of ResMed respiratory solutions is the ResMed Modi! It has an ideal balance of weight, oxygen level, and battery life that is designed to give oxygen patients the freedom to live an active and non-sedentary life.
This ResMed unit incorporates Pulse-WaveTM technology to efficiently deliver the appropriate dose of oxygen at the right time. This oxygen device can sense your breath rate and switches automatically between active and rest modes to match activity changes. 
ResMed Mobi Portable Oxygen Concentrator

Sound Level

39 dBA

Dimensions

7.95" H x 9.6" L x 4.49" W

Weight

5.5 Pounds

Flow Rate

1-4 LPM (Pulse Dose Setting)

Delivery/Flow Type

Pulse Dose

Battery Life

Up to 6 hours of battery life (Pulse Mode)
Pros
Long battery life

Lightweight

FAA Approved

Portable
Cons
Only uses Pulse Dose

Heavier side
Respironics offers one of the most advanced POC units on the market. Combining state of the art technology and construction with powerful oxygen concentration, Respironics introduces SimplyGo!
This one boasts exceptional convenience for daily use with its quiet operation and portability. The SimplyGo Oxygen concentrator delivers reliable performance with both continuous and pulse-dose oxygen capabilities. It allows patients to go out and enjoy their daily lives more without anxiety and mobility limitations! 
Respironics SimplyGo

Sound Level

43 dBA

Dimensions

11.5" H x 10" L x 6" W

Weight

4.5 Pounds

Flow Rate

0.5-2 Liters per minute (Continuous Flow)

1-6 LPM (Pulse Settings)

Delivery/Flow Type

3 oxygen-delivery modes; Pulse Mode, Continuous Flow, and Sleep Mode

Battery Life

3 hours (Pulse Mode)

54 minutes (Continuous Flow 2 LPM)
Pros
Offers 3 different oxygen delivery modes/methods.

Simple to use.

Rechargeable batteries that you can easily replace and remove.

FAA Approved. 
Cons
No oxygen if the batteries discharge during a power outage.

Short battery life when using continuous flow mode.
Caire Inc. is currently one of the leading manufacturers of affordable portable oxygen. Amongst their latest and most innovative unit yet is the Freestyle Comfort.
It is a pulse dose portable oxygen concentrator with up to 1,050 mL/min oxygen output and five pulse dose settings. It is considered a powerful pulse dose machine, making it an excellent option for oxygen patients who need high oxygen demands. 
This Caire unit is highly durable — so much so that the armed forces currently use it. Furthermore, it is quiet. It produces 43 dBA noise levels, enough to not disturb you from your daily activities.
Caire Freestyle Comfort

Sound Level

43 dBA

Dimensions

10" H x 7.3" L x 3.1" W

Weight

5 Pounds

Flow Rate

Up to 1050 mL/min (Setting 5)

Delivery/Flow Type

Pulse Dose

Battery Life

Up to 16 hours of battery life
Pros
Lightweight

Portable

24/7 Use

FAA Approved
Cons
Arya is a lightweight and top-rated portable oxygen concentrator with a 43 dBA noise level, designed for comfort, convenience, and portability.
This oxygen solution device offers a restriction-free lifestyle while still delivering oxygen of just the right and prescribed amount. With its 5 pounds weight, Arya POC is a medical device that won't weigh you down while you enjoy your newly restored portable freedom!
Arya is amongst the lightest and most convenient oxygen concentrators in the market that offers a pulse flow setting of up to 5, with a max oxygen output of 1050 mL/min. While still maintaining its small and compact design, Arya made it possible to deliver the prescribed flow of medical oxygen while restoring your freedom to attend your favorite social outings.
Arya Portable Oxygen Concentrator

Sound Level

43 dBA

Dimensions

10" H x 7.3" L x 3.1" W

Weight

5 Pounds

Flow Rate

Up to 1050 mL/min (Setting 5)

Delivery/Flow Type

Pulse Dose

Battery Life

Up to 16 hours of battery life
Pros
Sleek design

Comprehensive Warranty

FAA Approved

Easy to use
Cons
Only has pulse dose settings
At present, Rhythm P2 is one of the lightest and smallest portable O2 concentrator units. It offers a 49 dBA noise level with pulse settings of 1-5. This portable oxygen concentrator is not only built to keep oxygen patients safe and comfortable, but it is also a source of education and guidance. The company exists to accomplish one mission — to care for people with oxygen needs.
This pulse dose unit weighs only 4.37 pounds, making it extra mobile and portable for travel and outside trips. Therefore, you have a compact and efficient oxygen device that can propel you forward to accomplish your mobility goals.
Lifestyle Mobility Aids Rhythm P2

Sound Level

49 dBA

Dimensions

6.3" H x 8.7" L x 3.3" W

Weight

4.37 Pounds

Flow Rate

105 LPM 

Delivery/Flow Type

Pulse Flow

Battery Life

Up to 5 hours (setting 1)
Pros
Lightweight

FAA Approved

Easy to use

Designed for 24/7 use
Cons
Expensive

Only has pulse flow setting
How to Buy a Portable Oxygen Concentrator Based on Sound Levels
Although a portable oxygen concentrator's price and quality are top considerations when choosing what to buy, the noise level is equally important.
All oxygen concentrators make a certain level of noise. Thankfully, thanks to the progress of technology, POCs are now becoming quieter and quieter. You can now find concentrator units with various noise levels.
If you are struggling, here is a guide on how you can buy the best portable oxygen concentrators based on the sound levels:
Step 1: Choose A Decibel Range
If you prefer to base on sound levels when choosing your portable oxygen concentrator, you will need to select a decibel range you are comfortable with. The average noise level of POCs today is 40-50 dBA. You can use that as your basis, or if you prefer much quieter, you can find ones around the 37-39 dBA range.
If you don't mind the sound too much as long as they are efficient, there are ones around the 50-60 dBA range. Invacare platinum is one such example. 
Step 2: Find Concentrators With Your Choice Of Decibel 
The next step consists of conjuring up a list of concentrators that fall under your range choice. You can start with the brands you prefer and trust, then choose ones with your desired noise levels. 
Step 3: Narrow Down Your List
To narrow down your list, check the other features. Decide on the battery life, flow rate and type, weight, size, price, and design. You can then choose ones that would fit your lifestyle and preference.  
Step 4: Decide
The last step is the decision itself. Choose the unit that speaks most to you — whether it is the cheapest portable oxygen concentrator on your list or the quietest. It does not matter as long as you choose the best one that fits your oxygen needs!
3 Tips to Make Your Portable Oxygen Concentrator Quieter
People have now found ways to make their oxygen concentrators quieter. Here are a few ways to soundproof your oxygen concentrator.
1. Tighten The Internal Parts and Case
As a POC age, the internal parts case can loosen or break. When the screws loosen or the case breaks, it will make louder noise. If the spring breaks, the motor will keep banging on the case. 
To fix this, tilt the machine to the side where the spring is still good. However, if the case is broken, replace it with a new one. 
2. Place On a Smoother Surface
If you put the oxygen unit on hardwood, it will make annoying sounds. It is better to place it on a smoother surface. You can also use a rug, cloth, cardboard, or carpet. 
3. Solve Muffler Problems
Most oxygen concentrators have mufflers within them. If the muffler encounters issues, it will make loud noises and you will have to repair it. A temporary fix is using an additional oxygen tubing and moving the oxygen concentrator away from you to reduce the sound. 
If the muffler is fine, turn it slightly. It is, so the ends of the plastic tie wraps do not touch anything. The motor and case are normally encased in medium-density acoustic foam. 
FAQs About Sound Levels of Portable O2 Concentrators
Why is my oxygen concentrator so noisy?
If you own an older oxygen concentrator unit, you can expect it to be noisier. They use rubber vibration for the compressor. The rubber mounts absorb the compressor's vibrations and sounds. So, when the rubber breaks down, it makes crackling and hissing noises. 
Newer models have compressors mounted on a spring, which produces a much quieter noise.
How quiet is the Inogen G5?
Inogen One G5 is a compact and lightweight oxygen concentrator that can offer you 24/7 service. It operates quietly, producing only 37 decibels noise levels — barely above a whisper. It can supply you with pure oxygen the whole night without the risk of waking you up.
How quiet is 40 dB?
A 40 decibels noise level is similar to the sounds you can hear inside a library. You can even compare it to the sounds of the stream or hums of the refrigerator that your ears strain to hear. This sound level is quiet enough that it won't disturb you from what you are doing — whether you are studying, working, or even sleeping!
Do portable oxygen concentrators make noise?
Yes. All types of oxygen concentrators produce a certain amount of noise. The sound concentrators emit can be measured in decibels.
As technology progressed, oxygen concentrators became much quieter with each new model released. For now, the sound level range of concentrators is between 37-and 60-decibels. 
How loud are oxygen concentrators?
The amount of noise oxygen concentrators produce varies from model to model. Concentrators today have compressors, which inevitably produce noise.
Fortunately, most concentrators have noise reduction technology that minimizes the sound level as much as possible. Very few oxygen concentrators today exceed 60 decibels. They usually fall around the 40-45 decibel range. 
Find The Quietest Portable Oxygen Concentrator Today!
It is pretty challenging to find a quiet and high quality oxygen concentrator that can tick all your boxes while still meeting your oxygen needs. If you are looking for the perfect oxygen concentrator, you can visit us at
SpryLyfe
. We offer
top-quality portable oxygen concentrators for sale
with the lowest sound levels in the market today!