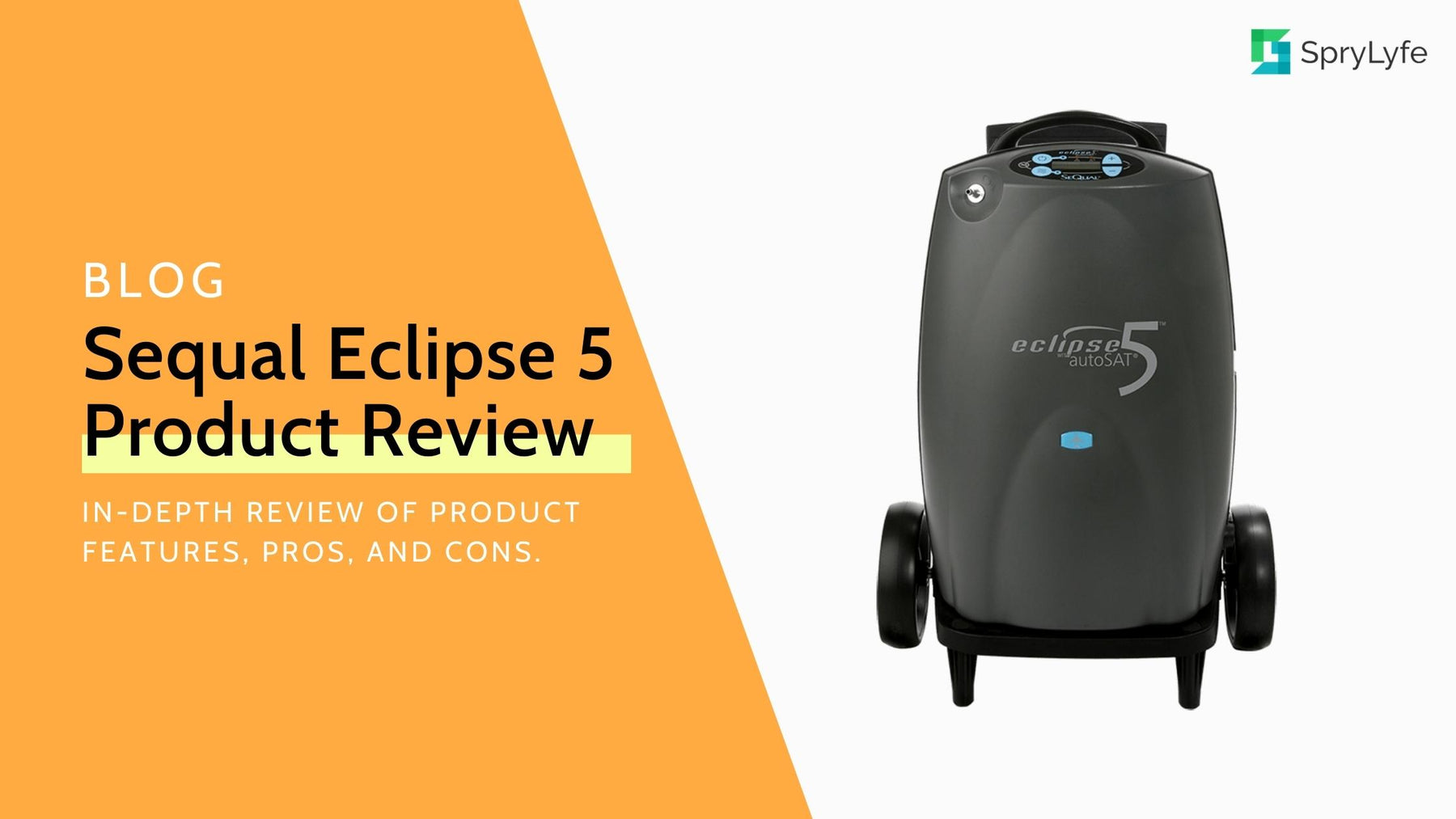 CAIRE SeQual Eclipse 5 Portable Oxygen Concentrator Review
Are you struggling to find the POC that best suits your oxygen needs? Worry no more because the SeQual Eclipse 5 portable oxygen concentrator may be what you have been looking for today.
Read on as we guide you to the things you must know about this portable oxygen concentrator.
Bottom Line Up Front
The SeQual Eclipse 5 portable oxygen concentrator is an all-in-one unit with a combination of efficiency, excellent benefits, long battery life, and compact design. It has several features that may assist patients with their oxygen therapy and requirements. 
Who wants a portable oxygen concentrator with superb technology and excellent flow settings and output? The SeQual Eclipse 5 is waiting for you! Here are its specs to get you started.
What You'll Like
Supports both continuous and pulse flow settings

Effective autoSAT technology

FAA-approved for airline travel

Quiet operation

High oxygen purity
What You Won't
Heavier and bulkier than other POCs
Continue reading this extensive SeQual Eclipse 5 review to know more.
What is SeQual Eclipse 5 Portable Oxygen Concentrator?
The SeQual Eclipse 5 portable oxygen concentrator is one of the most popular POCs in the market. It delivers adequate oxygen on its continuous and pulse dose settings to meet the patient's respiratory requirements. Its autoSAT technology also enables the machine to produce a consistent pulse dose volume depending on the breath rate changes.
This machine is highly recommendable for people suffering from sleep apnea, COPD, and other respiratory diseases. Since it can also work with CPAP and BiPAP machines, undergoing such additional therapy is not a problem. Moreover, its wide range of accessories and travel approvals will allow you to use it everywhere.
How Does SeQual Eclipse 5 Portable Oxygen Concentrator Work?
The SeQual Eclipse 5 has a passive system for separating oxygen from the air. First, the air flows into the POC. The filtering process begins, and it will then enter the compressor.
The pressurized air goes into the ATF concentrator module, where it becomes separate nitrogen and oxygen contents. The POC then uses its rotary valve system for the air separation process. It forces the air through a series of several pressurized sieve beds.
The adsorbent material in the POC collects the nitrogen molecules through the "vacuum pressure swing adsorption" process. It will also purify these molecules using a vacuum pressure cycle. Then, it forces the concentrated oxygen through a sieve bed into the tank.
The oxygen flows from the tank through a HEPA filter and sensor, measuring its flow and concentration. A flow control valve will then manage the oxygen flow to the oxygen patient. After that, the cycle repeats from the start.
SeQual Eclipse 5 Portable Oxygen Concentrator Features
SeQual has been a consistent leader in continuous flow portable oxygen concentrators, providing the safest oxygen delivery for patients. Its recent release is the SeQual Eclipse 5 portable oxygen concentrator. You can check its features below to know more.
Design
Even though it looks bulky, you will never feel awkward bringing the SeQual Eclipse 5 because it has a compact design and minimalist colors. Its cart makes the unit look better and aesthetically pleasing.
Size and Weight
The SeQual Eclipse 5 oxygen concentrator can be heavier and bulkier than other POCs. The portable unit weighs 15 pounds, while its power cartridge weighs 3.4 pounds. On the other hand, its dimensions are 19.3 inches high, 12.3 inches wide, and 7.1 inches deep.
Portability
This portable oxygen concentrator can weigh heavier than other machines. However, you can still use it easily because its cart allows you to move the unit everywhere. It may not be the most portable oxygen concentrator, but it is not the heaviest either.
LCD Screen
SeQual Eclipse 5 has an easy-to-read LCD screen. It usually displays the following:
Flow Setting Indicator
The flow setting indicator is one of the essential things in your POC. This part usually displays the set prescribed flow for your pulse dose setting (mL) or continuous flow mode (LPM). The previous set flow will continue at start-up every time you turn on the device.
Power Cartridge Status Gauge
The power cartridge status gauge shows the remaining charge in the battery. You may see five horizontal gray bars that represent 20% of the total battery charge.
These charge indicator bars will most likely blink when charging the battery. On the other hand, the power cartridge status gauge will not light up or flash on and off if you do not install the battery correctly.
External Power Indicator
The external power indicator will appear on the user control panel when you plug the SeQual Eclipse 5 and use the AC or DC power supply.
Controls
The SeQual Eclipse 5 has a few controls in the control panel, and you don't have to worry because you can learn them quickly. We have listed them below to help you understand their meaning and how to use them.
On and Off Button
Clicking this button will power the unit on or off. You may notice a green light indicator near the button, which signals that you have turned the device on and it is working correctly.
Increase or Decrease Flow Setting Buttons
You can use these buttons to adjust the flow to your prescribed setting.
Delivery Mode Button and Indicator
You can use this button to toggle between the pulse dose and continuous flow mode. The former will activate the autoSAT technology and allow an increase in the usage time while powered by the battery.
The green pulse dose mode indicator will light up when you activate the pulse dose mode. Consequently, the machine will deliver oxygen depending on the breath rate.
Alarms
When something goes wrong with your portable oxygen concentrator, it will give off alarms that require immediate action. Some instances where an alarm goes on are the following:
Low oxygen output

Unit malfunction

Oxygen flow outside normal limits

Low power cartridge or a warm power cartridge

Loss of power or hot power cartridge

Low 9V battery
Sound Level
Like most POCs, the SeQual Eclipse 5 is also quiet, guaranteeing a peaceful and noise-free sleep during nighttime. It exudes a noise level of 48 dbA when operating its continuous flow setting at 3.0 LPM. Its 3.0 pulse dose gives off a 40 dbA noise.
SeQual Eclipse 5 also makes noise for its alarms. In this case, it emits fewer than 57 decibels of noise.
Battery
SeQual Eclipse 5 has a power cartridge as its battery. This power cartridge usually contains lithium-ion battery cells. It allows you to use it without AC or DC power sources.  
You can charge this power cartridge in two different ways. First, you can place it in the POC and connect it to an AC or DC power source. On the other hand, you can also put the cartridge in an optional desktop charger.
Battery Life
The SeQual Eclipse 5's battery life significantly depends on the mode and flow setting. Pulse mode can work longer than the continuous flow. You can check these data below to know more. 
Continuous Flow
0.5 LPM – 4.4 hours

1.0 LPM – 3.7 hours

2.0 LPM – 2.0 hours

3.0 LPM – 1.3 hours
Pulse Mode
16 mL (1.0) – 5.4 hours

32 mL (2.0) – 5.1 hours

48 mL (3.0) – 4.9 hours

64 mL (4.0) – 4.0 hours

80 mL (5.0) – 3.7 hours

96 mL (6.0) – 3.5 hours

128 mL (7.0) – 2.5 hours

160 mL (8.0) – 2.0 hours

192 mL (9.0) – 1.7 hours
Charging Time
After the SeQual Eclipse 5 gets drained, you need to charge the battery for 1.8 to 5 hours to achieve 80% capacity. However, it depends on the flow recharge time setting. 
Power Sources
SeQual Eclipse 5 may operate through an AC or DC power supply. The AC power supply can accept 100-240VAC, 50/60 Hz, and deliver up to 200W of 28VDC output.
Meanwhile, the DC power supply is for DC accessory outlets, like those found in vehicles. Its input voltage is 11.5-16 VDC and can deliver up to 150W of 26VDC output.
Power Consumption
This portable unit only consumes nominal power. You can ensure the machine does not take too much electricity when operating and charging. However, the power consumption still depends on the setting, power source, and activity.
0.5 LPM Continuous Flow – 48 watts

3 LPM Continuous Flow – 145 watts

1.0 Pulse Dose Setting – 45 watts

6.0 Pulse Dose Setting – 95 watts

Battery Charging – 50 watts
Flow Type
If you are looking for a POC that supports both continuous and pulse flow settings, you may check out the SeQual Eclipse 5 because they have both features. You can also use this machine with CPAP and BiPAP machines for those with sleep apnea disorder.
Sieve Beds
The SeQual Eclipse 5 contains ATF sieve beds for air and nitrogen separation. These sieve beds force the collected nitrogen molecules to go to the product tank. Moreover, it helps the machine get the oxygen for oxygen patients. 
Fortunately, you can replace your sieve beds regularly because you can find lots of them in different stores.
Warm-Up Time
Warming up will not take too much time because the SeQual Eclipse 5 only takes 2 minutes before getting warmed up.
Oxygen Concentration
The SeQual Eclipse 5 has an oxygen concentration of 87 to 95.6%. It also has a continuous flow accuracy of +/-10% or 200 mL/min.
Capacity
The SeQual Eclipse 5's capacity differs depending on the flow setting. For instance, the pulse dose setting ranges from 1.0 (16 mL) to 9.0 (192 mL). Meanwhile, the continuous flow can be 0.5 to 3.0 LPM.
Filters
The SeQual Eclipse 5 has an air inlet filter on the device's top rear. The air from the surroundings usually gets inside the machine through it. It filters out the unnecessary dust or particles that may come with the air. 
However, this air inlet filter needs replacement every year. It will require frequent replacement if you use it in a dusty environment. Cleaning is also a must to keep your portable unit performing correctly.
Available Accessories
You can find several accessories for your SeQual Eclipse 5 portable oxygen concentrator. Some may be present when you buy the machine, while some require separate purchasing. You can check these accessories below.
Cart with telescopic handle

Accessory bag

Nasal cannula

AC power supply unit

DC power supply unit

Power cartridge

Battery charger
FAA-Approval
The SeQual Eclipse 5 received approval from the Federal Aviation Administration (FAA) for traveling. Nevertheless, CAIRE advises removing the power cartridge from the oxygen machine before going to the baggage checking counter.
It is also better to ask the airline about the portable oxygen concentrator. If they allow you to use it, remember to operate it with a power cartridge. Do not use an AC or DC power supply or adapter in the aircraft.
International Approvals
Aside from being an FAA-approved machine, the SeQual Eclipse 5 is also a continuous flow POC that received approval from the Food and Drug Administration (FDA). It then became a predicate device for the following concentrators on the market.
Altitude
The SeQual Eclipse 5 can operate up to 13,123 ft. or 4,000 meters above sea level. However, expect that there may be performance issues as the altitude increases.
Warranty
CAIRE gives a 3-year warranty for all SeQual Eclipse 5 units. You can also get a 1-year warranty for the POC's battery and power supplies. Remember that they do not cover damages due to the user's fault and negligence.
Manufacturer Country
CAIRE manufactures the SeQual Eclipse 5 portable oxygen concentrator. You can find their manufacturing headquarters in Ball Ground, Georgia, USA. Aside from that, you can also locate their global sites in Buffalo, New York; Wuppertal, Germany; Padova, Italy; Anjo, Japan; Wokingham, UK; and Chengdu, China.
Price
Many online stores and physical shops sell the SeQual Eclipse 5. However, you can get this portable oxygen concentrator for a relatively lower price of $2,995 in SpryLyfe.
Available SeQual Eclipse 5 Discount
Originally, the SeQual Eclipse 5 cost $3,995. You can receive up to a 25% discount and purchase it for $2,995 at Sprylyfe today. You can also call (855) 205-5010 for more promo packages.
SeQual Eclipse 5 Portable Oxygen Concentrator Alternatives
Since SeQual Eclipse 5 is bulkier and heavier than other POCs, you may want to find a lighter and smaller portable oxygen concentrator. Luckily, we have listed some alternatives below.
1. AirSep Focus
When discussing the lightest POC, AirSep Focus is one of the leading products. This machine is currently the world's lightest and smallest portable oxygen concentrator on the market. Weighing less than 2 pounds, attaching it to your belt or shoulder strap is possible.
AirSep Focus is also a recommendable POC for outdoor use. You can freely take it on occasions, vacations, and road trips without worrying about battery time. You will never need to refill it because you can plug it into an AC or DC power outlet or use a fully-charged battery.
Read our expert review of the CAIRE Airsep Focus portable oxygen concentrator here.
2. Inogen One G4
If you do not prefer AirSep Focus, you can opt to purchase Inogen One G4. This POC weighs 2.8 pounds, making it the lightest POC after AirSep Focus. However, you cannot attach it to your belt. You will need to use a carrying case with adjustable straps.
Inogen One G4 supports pulse settings of 1-3. It can also last up to 4.5 hours. Lastly, it has a volume of 114 in².
Read our in-depth review of the Inogen One G4 portable oxygen concentrator here.
3. Caire Freestyle Comfort
SeQual Eclipse 5 only lasts up to 5.4 hours. In this case, you may consider checking CAIRE Freestyle Comfort because it can last up to 16 hours on its lowest flow setting. It has AC and DC power source options, allowing you to charge its battery in your home or the car.
Going outdoors is also possible because CAIRE Freestyle Comfort only weighs 5 pounds. You can use a carrying case or bag with shoulder straps to bring it to different places. However, this machine only supports a pulse dose mode.
Read our editorial review of the CAIRE Freestyle Comfort portable oxygen concentrator here.
4. Oxlife Independence
Watch our expert side-by-side comparison of SeQual Eclipse 5 and Oxlife Independence in the video below:
FAQs About SeQual Eclipse 5 Portable Oxygen Concentrator
We have answered a few questions about the SeQual Eclipse 5 portable oxygen concentrator. Check out these FAQs below.
Is SeQual Eclipse 5 FAA approved?
Yes. The Federal Aviation Administration (FAA) permitted oxygen patients to use SeQual Eclipse 5 for traveling. However, CAIRE released travel tips, requirements, and forms that patients may use when going onboard using this portable oxygen concentrator. You can check their website here and go to the Travel Approved Section. 
What is autoSAT?
The autoSAT technology allows the concentrator to adjust its oxygen output based on the patient's breath rate. It guarantees that the prescribed amount of oxygen reaches the patient despite the changes in activity levels. Through autoSAT technology, you can do various activities without worrying about your oxygen therapy.
How to check hours on SeQual Eclipse 5?
You can check the estimated remaining hours in the SeQual Eclipse 5 on the LCD screen. However, you may only notice five horizontal gray bars indicating the battery percent left. Each bar represents 20% of the total charge, so they can hint at how much time you can still use your machine.
What does a yellow light on SeQual Eclipse 5 mean?
The yellow light on the SeQual Eclipse 5 indicates that something went wrong with your oxygen machine. It can be about a power cartridge error, warm power cartridge, low voltage, flow restriction, or low oxygen levels. Remember not to ignore any of these warnings because they may damage your POC.
Is The SeQual Eclipse 5 Portable Oxygen Concentrator For You?
Opting for a SeQual Eclipse 5 portable oxygen concentrator can be an excellent choice, especially for people with sleep apnea. Its autoSAT technology allows the adjustment of oxygen delivery depending on the breath rate. Its continuous flow enables CPAP and BiPAP uses.
In a shorter sense, SeQual Eclipse 5 can have several features you can find on other portable oxygen concentrators. It may be heavier and bulkier, but its features make it worth it.
If you are interested in this machine, you may contact us or visit our website at Sprylyfe, or call one of our specialists at (800) 314-8225. We have amazing POC deals waiting for you.