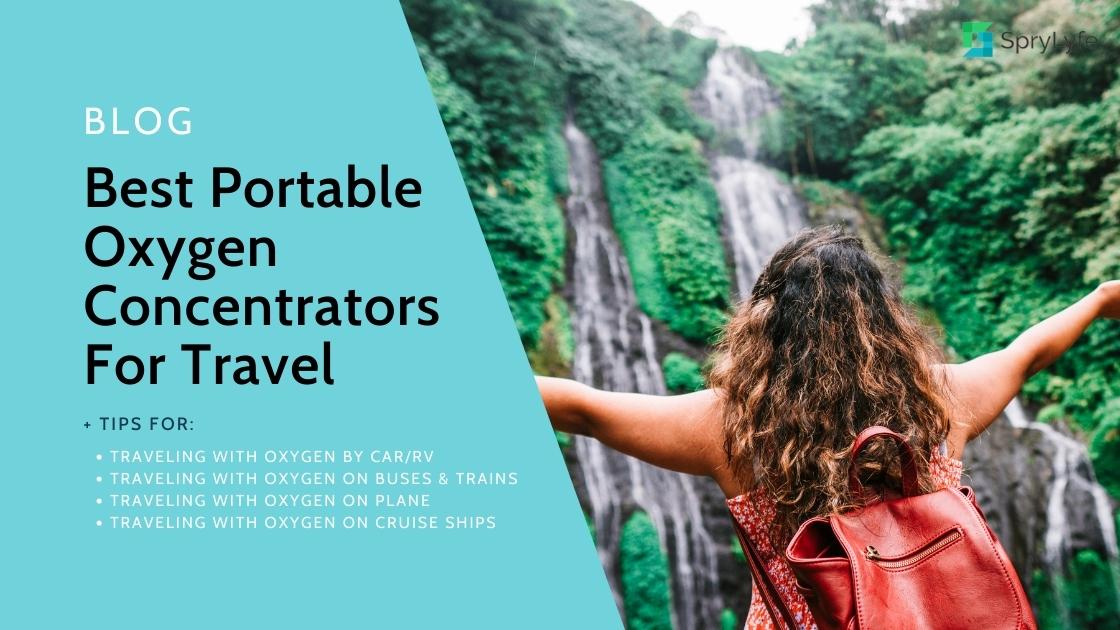 Best Portable Oxygen Concentrators For Travel
If you are looking for an exceptional portable oxygen concentrator for travel by land, air, and water, you would want to read this article. We will tackle everything there is to know regarding traveling with oxygen concentrators alongside additional information that will be helpful on your next journey.
Before we start, let's answer the main question first.
Why Use Portable Oxygen Concentrators When Traveling
Some people may experience breathing issues while traveling, which can be pretty dangerous when no aid is available in the vehicle. This is more common when traveling in high elevations. That's why oxygen supply is always accessible on the plane.
If you have existing respiratory problems, it would be best to carry a pulse oximeter wherever you go. Most portable oxygen concentrators are FAA-approved, so you can easily and safely bring them to an airplane. They also tend to be small enough to fit under your seat without being disruptive.
For other forms of traveling, the most portable oxygen concentrator for home and travel comes with a carrying case and a wheeled cart for maximum portability. 
7 Best Portable Oxygen Concentrators for Travel
In this section, take a look at which one is the best portable oxygen concentrator for travel, be it through air, land, and water:
The ARYA Airtivo Max is considered one of the best portable oxygen concentrators you can get. It is small and lightweight, so you can quickly bring it anywhere you wish. You can walk around for hours carrying this unit, and it will not feel like an additional weight.
ARYA is known for providing high-quality products for oxygen supply, so you would not regret getting this one. It also comes with an ergonomic design that follows the curve of your body when you carry it using the bag it comes with. This unit features soft-to-touch buttons and a large LCD screen that displays the battery percent and current flow setting.
This is an excellent portable oxygen concentrator for air travel because you can just put it on your lap or under your seat as if it is not there. It has a low noise production that mimics ambient sounds. Although it only comes in one flow setting (pulse dose), people still love it due to its long life on a single battery.
Here are the following pros and cons of the ARYA Airtivo Max:
Pros

Cons

Award Winning

Longer battery life

Low maintenance

Lightweight

Low noise level

Pulse Flow Settings Of 1-6
Longer recharge time (This can be eliminated by using an additional battery)
The Inogen One G3 is a popular unit from the Inogen line of portable oxygen concentrators. It only weighs 4.7 lbs on a single battery (8-cell) and 5.7 on a double battery (16-cell). This makes it perfect for traveling on a plane, car/RVs, train, and cruise. Upon purchase, it also comes with a stylish carrying case that you can use whenever.
It can reach up to a maximum of 10 hours of battery life using the 16-cell battery. This is ideal for going out and spending a long time outdoors. It can also provide up to 1,050 milliliters of around 90% oxygen. 
Here are a few of the pros and cons of the Inogen One G3:
Pros

Cons

Two battery options

Interactive LCD screen

FAA approved
Another high-quality unit from Inogen is this Inogen One G4. It is lightweight, compact, and one of the best portable oxygen concentrators out there. Due to its small size, you can now enjoy your favorite activities again without worrying about your breathing issues.
It is the lightest model among all Inogen POC products. At just under 3 lbs, you can get your required amount of oxygen in and out of your home. Not only does it help with several respiratory problems, but it also helps in preventing them from developing and worsening.
Take a look at these some pros and cons of the Inogen One G4:
Pros

Cons

Compact

Lightweight: less than 3 lbs

Smart technology

Shorter battery life than other Inogen units
The Inogen One G5 is among the excellent units from Inogen. It contains modern features that users will love. You can use it at home while resting and outdoors when participating in different activities.
If you love traveling, this is one of the best portable oxygen concentrators. It only weighs 4.7 lbs on a single battery and 5.7 lbs on a double battery option. Whether walking, running, or sitting around, the Inogen One G5 is your best friend.
Not only is it a popular unit among POC users, but it is also reliable for medical and non-medical applications. Despite its smaller size, it delivers oxygen of 1 to 5 liters per minute on pulse dose settings. 
Here's a list of the Inogen One G5's pros and cons:
Pros

Cons

Easy to use

Lightweight

Low sound level

Long battery life

High oxygen output

Bigger than the One G4

Additional cost for accessories and upgrade

Only one flow setting
Respironics SimplyGo is one of the reliable portable oxygen concentrator products from Philips. Due to its dual flow setting, it is often used to treat patients suffering from diseases like OSA, COPD, Asthma, and others prescribed with oxygen therapy. 
This particular model can deliver twice as much oxygen compared to other POCs of the same weight. The goal of this device is to allow users to get the amount of oxygen they need without compromising everyday activities and leisure habits. Anyone can experience the benefits of portable oxygen concentrators from this unit. 
It may be heavier than other machines, weighing around 10 lbs. Still, you can bring it wherever you go using a cart. It is not that bulky, so it would not be a nuisance during your travels. Of course, let us not forget that it is FAA approved too!
Here are the listed pros and cons of the Respironics SimplyGo:
Pros

Cons

It has two flow setting: pulse dose and continuous

Suitable for home and travel use

It can deliver twice as much oxygen

Over 15,000 hours of motor life

Heavier than other units: 10 lbs
Oxlife Independence is an excellent portable oxygen concentrator for many reasons. Not only is it convenient and suitable for traveling, but it can also significantly help people suffering from different respiratory problems. Even if it is relatively heavier than other POC units, it is still more convenient to use than oxygen tanks. 
This product uses a Dynamic Network Analysis (DNA) that allows it to give you the best possible performance by monitoring its environment. It will keep you connected to your trusted healthcare providers.
One advantage of this feature is it provides the necessary data for your healthcare providers to see if you are receiving your needed oxygen output. They can change your treatment plan from that if it doesn't work for you and develop another that suits your needs better.
Additionally, here are a few of the pros and cons of Oxlife Independence:
Pros

Cons

Easy to use

It utilizes Dynamic Network Analysis (DNA)

FAA approved

It has two flow setting: pulse dose and continuous

Heavier than other units: 21.4 lbs

Needs frequent filter replacements
The P5 is another great option for portable oxygen concentrators for travel. It only weighs 5.5 lbs, so you will enjoy using it even if you are away from home.
This machine is FAA approved, and you can travel with it across the U.S. Another thing you will love about it is its sound level of only 37 dBA. It is the same level as your silent appliances running in the background. It is one of the quietest portable oxygen concentrators you can find anywhere. 
Here are some of P5's pros and cons:
Pros

Cons

Low noise level

Compact

Lightweight

Easy to use

Adapts to your breathing rate
7 Tips When Traveling with Oxygen by Car/RV
If you are planning to go on a road trip or if you are living in an RV, you can easily bring along your trusted portable oxygen concentrator. As long as there are electric outlets available in the vehicle, you will be fine.
Getting a POC with a battery life of at least 5 hours is better if you plan on traveling more often. This is enough to secure your oxygen therapy supply for a few hours.
Portable oxygen concentrators are not distracting while on the road. If you are traveling along with others, you can always ask them to modify a setting on your POC if necessary. If you are alone, most carry bags do not cover the controls, so they will be accessible even if you are not paying your full attention to them.
Here are the seven tips that you can follow to have a hassle-free experience while traveling with a portable oxygen concentrator:
1. Bring an extra battery
Even if most portable oxygen concentrators come with a DC power cord, it is still better if you have an extra rechargeable battery. You wouldn't want to be tied to your car when you are out. It is also easier to change the batteries than to set up the charger so you can secure the concentrator back to its place.
2. Use concentrator carry bags, fanny packs, or backpacks
The good thing about portable oxygen concentrators is that they come with specially designed bags. For lighter models, you can even wear it all the time across your body without a problem. If the unit is relatively bigger, the bags can also serve as a protector and stabilizer so it won't acquire damage if it suddenly moves when you encounter a bump on the road. 
3. Prepare for emergency
Before you go on a drive with your portable oxygen concentrator, gather information on the people you can contact in an emergency. You should also bring extra supplies to aid your POC, like a mask, additional cannula, and so on.
4. Slightly open the windows
Opening the windows for at least 5 cm creates better ventilation for your POC. In this way, you can also get a better quality of oxygen unless the outdoors is heavily polluted.
5. Increase oxygen output at higher altitudes
If you are driving in a place with a higher altitude like Colorado, you can contact your doctor to check if you can increase the output of your POC. Sometimes, it is harder to breathe the higher you get, and a portable oxygen concentrator will be helpful with that. 
6. Keep from flames and smoke
Avoid getting your portable oxygen concentrator in contact with flames and smoke. It can damage the inner parts of your unit, especially the filters.
7. Secure your portable oxygen concnetrator on the backseat or passenger seat
You can place your portable oxygen concentrator on the floor upright or tuck them in with a seatbelt if they are bigger. This will keep them from falling over and damaging the system.
7 Tips When Traveling with Oxygen on Buses and Trains
As public transport, buses and trains tend to have many people walking around. If you are going to travel using any of these two, you would want to choose portable oxygen that is less than 20 pounds.
Smaller POCs are easier to bring in a public place because you can carry them and drag them using a cart. To make the experience convenient, here are the seven tips that you can follow:
1. Research the regulations regarding the use of portable oxygen concentrators
You should learn about the regulations first to see if your POC is allowed on board. It may differ per state depending on the provided laws. Call your nearest bus and train lines to learn about them, or you can do some research online.
2. Check in with your physician
 Before traveling with a portable concentrator, you should obtain a clearance from your doctors first. You should also bring your prescription everywhere and put it in a secured place. These will serve as proof that you require oxygen therapy. 
3. Book a seat near outlets
If your local train and buses have outlets on board, it would be better to sit next to them or in an area where they are accessible. This will allow you to charge your POC midway.
4. Bring extra supplies
Depending on the season, there may be too many people taking public transportation. It would be better if you had extra supplies for your needs related to your portable oxygen concentrator so you wouldn't need to go your way to find one in a crowd of people.
5. Call your line a day in advance
If your bus and train line have a booking system, it would be great to call them at least a day ahead and inform them about your portable oxygen concentrator. In this way, you will know if they have the resources to aid you on board. 
6. Do not sit in a hot area
If you have the opportunity to choose a seat, do not go to a place that receives hot air or in direct sunlight.
7. Secure your portable oxygen concentrator
If your POC is small, you should just put it on your lap instead of placing it under your seat so it would not be damaged when the vehicle is bumpy. You should also protect them from getting damaged by other people like accidental kicking, curious children, and bumping against hard surfaces.
7 Tips When Traveling with Oxygen on Plane
There are certain portable oxygen concentrators that are approved by the Federal Aviation Administration (FAA) for air travel. Traveling on a plane with an oxygen supply is more strict than other forms of transportation.
Oxygen supply is always available on board but is mainly used for emergencies. You should also know that POCs have a particular operating altitude in which they can work pristinely.
With that said, here are the seven tips that you can do to have a great flight with your portable concentrator:
1. Check in with your doctor
Before traveling by air, check in with your physician first. The air pressure is different at a higher altitude. They may prescribe you to increase your oxygen output setting if the flight takes a few hours.
2. Contact the airline
It is unnecessary, but calling the airline before your flight to discuss your unique condition may be helpful. If it helps, they can set up special arrangements for you and put you in a seat that receives a well-ventilated airflow. 
3. Choose a seat close to an outlet
If you can, research the seats with access to the outlet before you book a flight. This will be extremely helpful if your flight is long.
4. Book a direct flight
If you book a direct flight, you will only worry about one boarding. This is more convenient for people with supplemental oxygen because they only need to talk with a single set of people. 
5. Charge your device
You don't exactly know when you need an additional battery for your POCs. This will secure you in case the batteries on the unit malfunction or drain suddenly.
6. Bring extra medications
It wouldn't hurt to bring extra medications and inhalers to aid you in case of an asthma attack or a similar event. 
7. Go to the airport early
It is known that airplane lines can be pretty long during busy seasons. Even if you are traveling on a regular day, it is better to allot time for preparation in case something wrong comes up with the process. Your equipment will have to be inspected first, which may take too long. 
7 Tips When Traveling with Oxygen on Cruise Ships
One thing to know about traveling with oxygen on a cruise ship is that they make it easy and accessible. Some cruise ships will even provide oxygen included in the accommodation, while most allow you to bring your machine. 
To get started, here are seven tips you should do when traveling with oxygen on a cruise:
1. Get a clearance to travel from a doctor
When traveling, not only on a cruise, always bring your oxygen supply prescription and clearance to travel in case authority or staff asks you regarding your portable oxygen concentrator.
2. Contact the cruise liner prior in advance
If you can, contact the cruise at least three weeks in advance and let them know about your situation with your oxygen therapy. 
3. Bring extra batteries
When you are on a cruise, you don't want to spend most of your time in your room. You should bring an extra battery around to enjoy and have fun, even if you are using a portable oxygen concentrator.
4. Do not put your oxygen concentrator on the checked baggage
You wouldn't want to leave your device just anywhere. Putting it on the checked baggage can significantly compromise your travel.
5. Arrive early
Usually, equipment requires checking to ensure they are safe to bring on a cruise. This may take some time so arrive early before boarding.
6. Work with an agent
If you do have the means to do so, you should work with an agent to help you arrange everything related to your oxygen needs. They can help you get the necessary parts and items to last the trip.
7. Do not leave your portable oxygen concentrator anywhere
Usually, there are many people on the cruise, and you don't want to leave your valuables just anywhere. Always keep it close to you so it will not get lost.
Related: How to Travel With Oxygen On A Plane. Tips for traveling with American Airlines, United Airlines, Hawaiian Airlines, Southwest Airlines, Alaska Airlines and Frontier Airlines.
FAQs About Using Portable O2 Concentrators During Travels
What is the best way to travel with oxygen?
The best way to travel with oxygen is by putting it in a carrying case or a cart. This way, you can easily carry it conveniently and secure it below the seat. These accessories also act as a cover to protect the unit from scratches, impacts, and other damages. If you are using public transport, portable oxygen concentrators are more accessible than regular oxygen tanks. 
How do you use an oxygen concentrator in a car?
You can use a portable oxygen concentrator in a car as is. They are designed to be used wherever, whenever, and almost all come with a DC power cord upon purchase. If you plan to use it during a long car ride, you can place it in the passenger seat in an upright position.
You should get a nasal cannula that is long enough to connect you with your POC. If they become low in battery, you can safely use them while connected to your car through the DC charger. 
Learn more about how to use a portable oxygen concentrator in a car.
What are the portable oxygen concentrators approved by the FAA?
According to Federal Aviation Administration, here's a list of some portable oxygen concentrators that are FAA-approved:
GCE Zen-O

GCE Zen-O Lite

Inogen One G4

Inogen One G5
Are Inogen concentrators allowed on planes?
Yes. Most Inogen portable concentrators are approved by the FAA for air travel. They are small enough to bring on a plane and would not cause any inconvenience to the user and other passengers.
They can also fit on carry-ons, or you can put them in a carrying case specially designed for specific units. You can also contact anyone from the airline you're traveling with to learn about their policies regarding oxygen devices. 
Does using oxygen make your lungs weaker?
No. Home oxygen therapy will not make your lungs weak. Portable oxygen concentrators are not addictive, and you will only get a prescription based on the level of oxygen that you need. The primary purpose of oxygen therapy is to provide the cells and tissues with the amount of oxygen required to keep the organs in your body healthy and functional. 
How long will a portable oxygen concentrator last?
Most units are created to be durable for all sorts of situations. They typically last anywhere from five to seven years. They are meant to aid the user when traveling, doing daily tasks, and living a normal life.
However, their lifespan still depends on different factors such as brands, models, and how the owner uses and maintains the POC. If the portable oxygen concentrator is treated with care and the damaged parts are replaced immediately, it may even last longer. 
Can an oxygen tank be left in the car?
Leaving an oxygen tank for extended periods is not advisable, whether inside or in the trunk. If you are going to do so, ensure ventilation in the car by opening the window by at least 5 cm.
The heat may accumulate inside the tank and result in an explosion. It can also explode in a rear-end collision if the tank is stored in the trunk. This can be extremely dangerous to the people inside the vehicle and others outside. 
Can you drive a car while using oxygen?
Generally, you can drive a car even if you are using oxygen. Most companies created portable oxygen concentrators for home and travel use. They are also far safer than using other oxygen devices like tanks and ventilators.
Portable oxygen concentrators use the ambient air and filter to come up with up to 98% of purified oxygen. Some units are also designed with accessible buttons on top of the machine, so you won't have to divert your full attention from the road if you need to modify something. 
Learn more about laws in the US about driving while on oxygen supplementation.
Can portable oxygen be left in a hot car?
No. You should never leave a portable oxygen concentrator in a hot car, especially during summer. If it is running, it may damage the machine's inner system and batteries.
You can check the maximum storage temperature of the device from its manual, as it often differs for each model. It is usually under specifications; you can also check it from the brand's website. You can safely operate most portable oxygen concentrators only up to 104°F or 40°C.
How to get a portable oxygen concentrator for travel?
Usually, you will need a doctor's prescription before getting yourself a portable oxygen concentrator. Administering oxygen to yourself can be harmful. You can buy a unit directly from a brand's website if you already have a prescription. Ensure it is FAA approved so you can bring it anywhere without a problem.
You can also buy a portable oxygen concentrator here at Sprylyfe at competitive pricing. We have a wide selection of promos, packages, and discounts.
Have Fun Traveling With Your Portable Oxygen Concentrator!
You can choose among the above mentioned products for the best portable oxygen concentrator for travel! Simply follow the tips we prepared to have a wonderful experience on your next journey.
If you're still in the process of selecting the best device for your personal needs, do not hesitate to contact us at

 
SpryLyfe
! You can also call us at

 
(800) 314-8225
. We are more than happy to assist you.