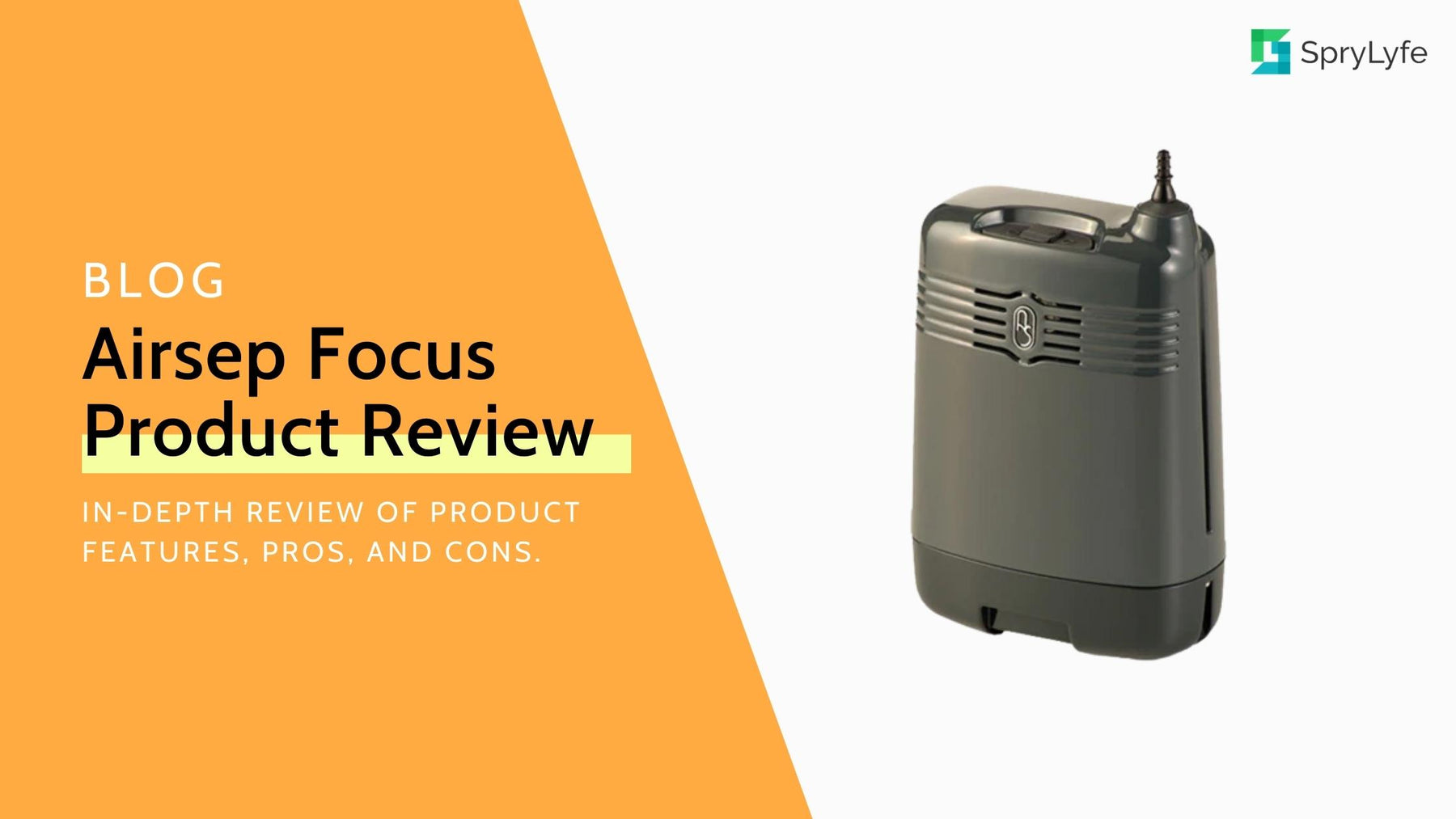 CAIRE Airsep Focus Portable Oxygen Concentrator Review
Have you been browsing the internet to look for detailed Airsep Focus reviews that can help you decide if it's the perfect concentrator for you? Look no further as we got what you need right here.
Browse through this comprehensive review to know more about what Airsep Focus can offer and give.
Bottom Line Up Front
Airsep Focus is the lightest portable oxygen concentrator available on the market today. It can make travel hassle- and worry-free for people undergoing oxygen therapy. It is undoubtedly a life-changer for those oxygen patients who want to take back certain aspects of their life — mainly their freedom and independence. 
This product is small, efficient, and quiet; truly ideal for outdoor use.
What You'll Like
Sleek and compact design

Easy to maintain and smart to carry

Quiet operation (41 decibels)

Less than 2 pounds 

Has Airsep's ultra sense technology
What You Won't
Flow is limited

Short battery life
Simply knowing the pros and cons of an item is not enough to judge whether a product is worth purchasing or not. This in-depth review will cover everything you need to know about the Airsep Focus Portable Oxygen Concentrator.
What is Airsep Focus?
Airsep Focus is a light and portable pulse flow concentrator that gives active individuals the supplemental oxygen they need at low output and capacity. This unit was engineered and designed to provide patients with medical-grade oxygen while still being able to move freely, without feeling held in place by the additional weight.
This unit is perfect for people with limited mobility and those who suffer from chronic shoulder and back pain. It is precisely for patients with mild stage 1 or 2 COPD conditions. 
How Does Airsep Focus Work?
Oxygen concentrators have been around since the mid-1970s. It became the most reliable and convenient source of supplemental oxygen available today. Moreover, they are efficient, cost-effective, and the safest alternative to high-pressure oxygen tanks and cylinders. 
The air humans breathe consists of approximately 78% nitrogen, 21% oxygen, and 1% other gasses. In the Airsep Focus unit, the air in the room passes through a regenerative and absorbent material called a molecular sieve. It is the material primarily responsible for separating oxygen from nitrogen. The result is the flow of high-concentration oxygen delivered to oxygen patients. 
Airsep Focus combines oxygen conserving technology with advanced oxygen concentrator technology to create the world's lightest and smallest portable concentrator unit. This product efficiently produces and releases its oxygen and immediately delivers it as a pulse of oxygen at the beginning of the patient's inhalation. 
Airsep Focus Features
A product's features are what make it stand out from the rest. Unlike other Airsep Focus portable oxygen concentrator reviews, this article will also tackle the unit's features in complete detail!
Design
Being dubbed the lightest portable oxygen concentrator, you can expect the design to be as small as it could get. It is palm-sized, with a compact and sleek design. 
It is smart to carry — one that looks good and can be easily thrown across the shoulders without much worry of ruining your outfit aesthetic since it doesn't look medical at all.
Size and Weight
AirSep Focus is unbelievably tiny compared to other portable concentrators in the market, with dimensions 6.4 high x 4.8 wide x 2.5 deep. That means AirSep Focus is small enough to fit inside a purse or clip in a belt! 
Moreover, this unit weighs only 800 grams, proving that it is the lightest among all POC units. However, note that the battery weighs around 240 grams and must be worn separately. Some people might see this as a hassle, while others like the weight being distributed. 
Regardless, take note of these numbers:
Unit: 800 g

Battery: 240 g per battery 2 included

Optional AirBelt (Battery Belt): 800 grams
Portability
AirSep Focus is leagues ahead of some of its competitors in terms of portability. This model has been found to meet the needs of most individuals with mild respiratory problems. Aside from its petite and portable size, another good feature this unit has that goes well with traveling is the carrying case that comes along with it.
It has an excellent cross-shoulder strap that can help keep the unit close to you. Thanks to the lightweight and small size, you will surely be able to carry this POC around without any trouble or hassle!
LCD screen
The AirSep Focus model does not have an LCD screen. 
Controls
AirSep Focus Portable Oxygen Concentrator is simple to use and operate with its basic controls. There are no settings you will need to adjust. Instead, it is a one-touch operation and merely has an on and off switch and LED lights that indicate the pulse flow and alarm.  
Alarms
This unit has alarms that typically indicate the machine is not working correctly. When the portable oxygen concentrator is operating and does not sense breathing for the past 15 minutes, it will trigger a constant alarm sound, and the amber alarm light will illuminate simultaneously.  
Other triggers for the alarm are low battery warnings, disconnected cannulas, and exceeded capacity.  
Battery
The most important takeaway about AirSep Focus regarding batteries is that it has external batteries only. It has to be worn separately, either on the hip, waist or on the model's shoulder strap. Fortunately, Airsep also offers a bag with battery pockets as part of its accessories for those who do not want to wear the battery belt separately.
Battery Life
Airsep Focus portable oxygen concentrator comes with two external micro-batteries, with a 1.5-hour duration each. To get the whole 3-hour battery life duration, you will need to carry both batteries separately and manually switch the first one with the second as soon as it depletes. 
The battery has a built-in charge indicator that displays how much the battery is charged. The 4 LEDs will flash to show the unit's battery status in 25% increments. The battery will keep charging even when the product runs on AC/DC power. 
You can purchase an AirBelt if you need more battery backup. It can give you an additional 4 hours, which makes a total of 4 hours (3 hours of 2 micro batteries plus the 4 hours of battery belt).
Charging Time
The recharge time of Airsep Focus is 4 hours for the battery pack and 3 hours for the optional AirBelt. 
Power Sources
This unit works on four primary sources:
Rechargeable battery 2 included

AC Mains

DC Power Supply (such as a car charger)

AirBelt (optional battery belt)
Power Consumption
The Airsep focus unit uses only 65-85 watts of power. If the battery is charging, the energy consumption rises to a modest 75-90 watts. 
Flow Type
Airsep Focus offers a rate of pulse flow settings 2, equivalent to 2 LPM. That is relatively low for many oxygen patients. Though, that is quite expected due to its extremely lightweight and small size. It will come with limitations. 
It better suits patients with only low oxygen needs. Note that the unit only provides pulse dose settings. That means it only releases oxygen when the patient inhales. Therefore, you can't use it alongside PAP devices. 
Sieve Beds
Sieve beds are the filters found inside the concentrator that is in charge of separating the nitrogen from the oxygen in the air. AirSep Focus, to adapt to its small body, uses a smaller compressor, a smaller motor, and of course, smaller sieve beds. The size restriction is also why it only has one oxygen setting, which is the pulse flow setting 2.  
Warm-Up Time
This oxygen concentrator only needs 2 minutes to warm up before you can use it. 
Oxygen Concentration
The unit has an oxygen concentration percentage of 90% oxygen (-3%, +5.5%) in the operating range. 
Capacity
Airsep Focus has one pulse flow setting of 2. Accordingly, AirSep Focus has a low maximum oxygen output of 330 ml/min, which is perfect for those oxygen therapy patients with low oxygen needs. 
Sound Level
The Airsep Focus model produces up to 41 decibels. That is similar to a low and silent hum of a refrigerator, ideal for travel and outdoor use as it won't disturb anyone with its quiet operation. 
Filters
The internal filters are one of the things you need to keep an eye on with your Airsep Focus. They need to be replaced after 5,000 hours of operation. It would be best if you didn't go over that period. 
Since this device supplies you with oxygen, you need to keep the filters clean. Otherwise, you might inhale dust, dirt, and bacteria. That is the last thing you want as an oxygen therapy patient. 
Available Accessories
Airsep Focus has several available accessories:
Two batteries

AC/DC Universal Power Supply

AC/DC Power Cord

Carry-all Accessory Bag

Shoulder Strap

Battery Case

Battery Charging and Operation Coiled Cords

Carry Bag with Battery Pockets
FAA-Approval
Traveling is one of the many exciting and rewarding things in life. However, being an oxygen patient can put a bit of a damper on those plans. Fortunately, Airsep Focus is one of the POCs that satisfied and met the acceptance criteria of the Federal Aviation Administration. 
Airsep Focus has been approved for onboard medical use. It makes traveling for oxygen patients easy and hassle-free. It has four power source options that guarantee you would not go a minute without pure oxygen.
You can take this unit with you if you travel by plane, car, or ship. It is indeed a great companion for your overseas plans or out-of-town road trip.
International Approvals
Airsep supports customers from around the world with high-quality services and products. Airsep Focus is being distributed worldwide to assist people with oxygen needs. The company has product sales and support in more than 100 countries.
Moreover, it is both FDA and FAA approved.
Altitude
This unit has an operational altitude of up to 10,000 feet. Higher altitudes than that might affect the quality and performance of the product. 
Warranty
Airsep Corporation offers the Airsep Focus Portable Oxygen Concentrator a warranty of 3 years from the delivery date under regular operation and use.
The battery has a 1-year warranty. The company has obligations under this warrant of limited replacement or repair of any item of equipment that is shown to be defective. 
Each item for warranty claim needs to be returned, along with your proof of purchase.  
Manufacturer Country
Airsep Corporation is based in New York. All Airsep products are manufactured and developed in the US. 
Price
The price of the Airsep Focus tends to vary depending on the online retailer site or shop you purchased it on. There is also the issue of shipping rates. Over at SpryLyfe, you can buy it for USD 2,995 only!
Available Airsep Focus Discount
At SpryLyfe, we offer over 20% discount for Airsep Focus units. We also offer promo packages for specific products. Visit our website or give our team a call to know more.
Airsep Focus Alternatives
While Airsep Focus is one of the best in the market, it still has flaws. If you're unsatisfied with the product and looking for reliable alternatives, here is a short list you can consider!
1. Caire Freestyle Comfort
The biggest possible flaw of the Airsep Focus is its short battery life. If you want a similar light product with unique features, you can try Caire Freestyle Comfort. It is the latest pulse flow oxygen concentrator from CAIRE, Inc.
This product offers an ergonomic design that would go well with your outfit. Weighing only 5 pounds, it is comfortable and easy to carry around, whether you are going out for an errand or taking a trip out of town.
Unlike Airsep Focus' single oxygen setting, this unit has five pulse flow settings to accommodate more oxygen needs. It also lasts up to 16 hours at its lowest flow setting and 4 hours at its highest (with 16 cell battery).
Read our in-depth editorial review of the Caire Freestyle Comfort portable oxygen concentrator.
2. Respironics SimplyGo
If you're looking for a POC unit that offers both pulse dose and continuous flow setting, Respironics SimplyGo might be the best option out there. Unlike older continuous flow units that are cumbersome and bulky, this unit is portable and compact.
At a weight of mere 10 pounds, this unit surely packs a punch as it can deliver up to 2,000 ml/min! It suits those with high levels of oxygen needs that like to travel and go out. It is the combination of solid oxygen input and portability.
It has a carrying case and foldable rolling cart for easy transport and travel.
Read our comprehensive expert review of the Respironics SimplyGo portable oxygen concentrator.
3. Inogen One G5
Another light and portable oxygen unit with long battery life are the Inogen One G5. It boasts a quiet operation (38 decibels) and has an excellent maximum oxygen output of 1,260 ml/min, a definite step above Airsep Focus' oxygen output.  
This unit has an easy-to-read LCD screen with a Bluetooth connectivity option. You can keep track of its current settings and battery life status via the Bluetooth connection. Like Airsep Focus, this also comes with a carrying case, perfect for travel purposes. 
Read our editorial review of the Inogen one G5 portable oxygen concentrator.
FAQs About Airsep Focus
Here are some frequently-asked-questions regarding the AirSep Focus concentrator:
How much is an AirSep oxygen concentrator?
The price of an AirSep Focus machine differs depending on the website or retailer you are buying it from and your physical location if you are having it delivered. At Sprylyfe, you can purchase genuine AirSep Focus concentrators for as low as USD 2,995.
Who manufactures AirSep?
AirSep Focus is manufactured by AirSep Corporation, under Caire, Inc. AirSep Corporation offers economical, innovative, and advanced Nitrogen and Oxygen supply solutions worldwide. 
Is Airsep Focus good?
Despite several lightweight oxygen concentrators in the market, AirSep Focus remains one of the best POC units in terms of quality, function, and features.
Purchase Your Own Airsep Focus Today!
Airsep Focus is a small POC unit that allows you to go anywhere whenever you want without having to carry additional and noticeable weight. This unit is extremely lightweight, reliable, and versatile. It is truly enough to meet low-level oxygen needs, but do note that this product only has a specific flow and battery life limitations.
If you want to buy an Airsep Focus portable oxygen concentrator or any other Caire product, you can drop by Sprylyfe!
We offer only
high-quality portable oxygen concentrators
and products that can undoubtedly support your oxygen needs. You can also call us at
(800) 314-8225
, so we can assist you better.