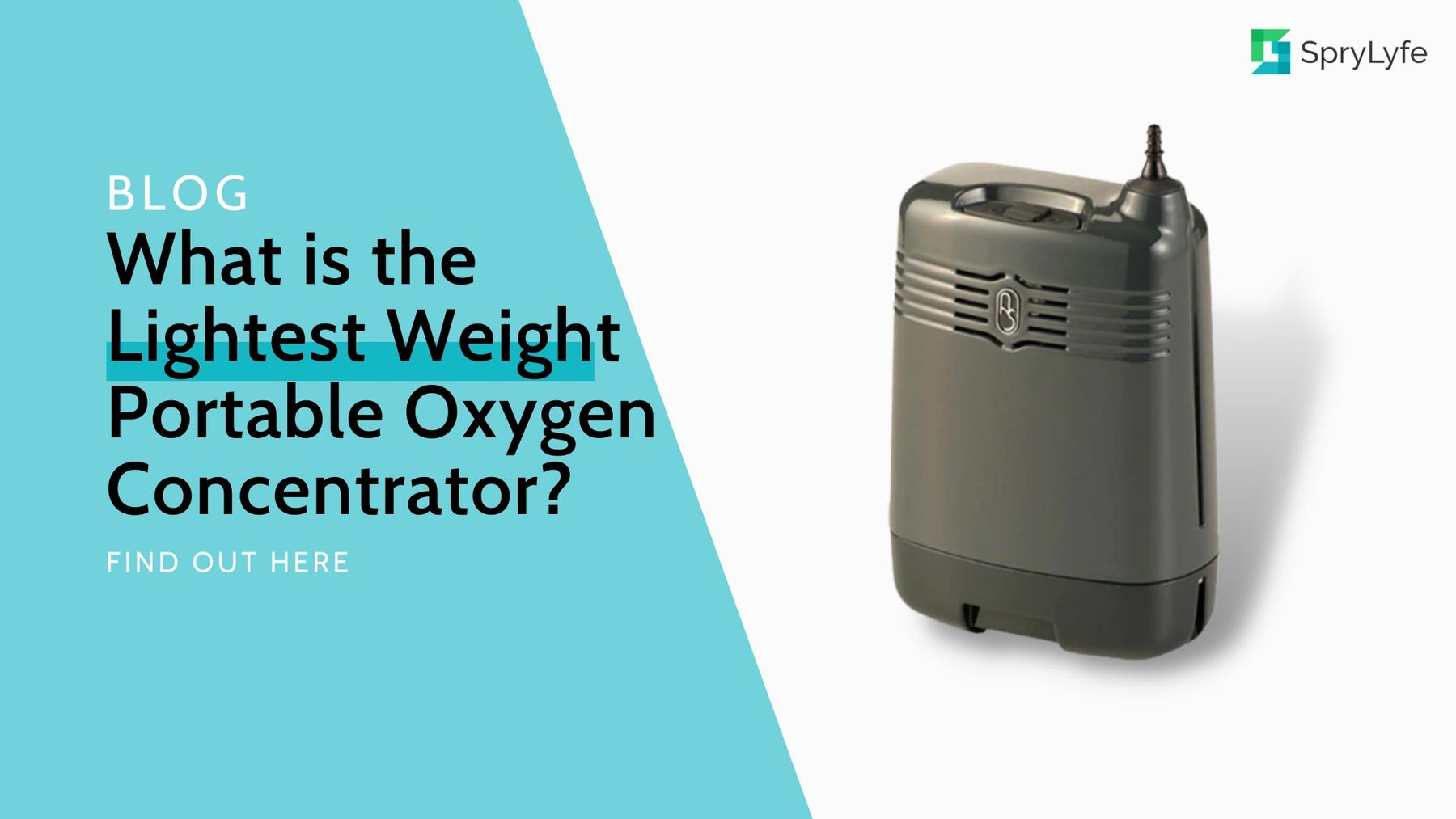 What Is the Lightest Weight Portable Oxygen Concentrator in 2023?
If you are looking for an oxygen concentrator, you're probably wondering what is the lightest weight portable oxygen concentrator you can find. Those who seek to invest in a form of travel oxygen device are on the lookout for compact machines they can quickly bring and carry around.
This article will tell you everything you need to know about the lightest portable oxygen concentrators available on the market, including how to choose which POC is best for you.
What Is the Lightest Weight Portable Oxygen Concentrator?
The lightest portable oxygen concentrator in the market today is the AirSep Focus.
It is an ultra-portable oxygen unit ideal for physically active oxygen patients who need supplemental oxygen but do not require high output. It weighs less than 2 pounds with a low maximum oxygen output of 330ml/min.
While it is not the best for long-distance travel, it is perfect for those who aspire to live a healthy lifestyle while breathing easily! 
6 Lightest Portable Oxygen Concentrators
If you are looking for a portable O2 concentrator, you probably put a lot of effort and time into doing your research. Since there are hundreds of POC models available, you will need to find one that can meet your oxygen demands and fit your budget and lifestyle. 
Unfortunately, that is essentially easier said than done since many websites offer low-quality and knock off oxygen therapy devices that do not live up to their hype.
To help, here are the top portable oxygen concentrators you can look into if weight is one of your primary considerations!
Weighing a remarkable 1.75 lbs, AirSep Focus is the lightest portable oxygen concentrator on this list. With its small size and lightweight, you would be pleasantly surprised with how efficient this concentrator is. This model is so tiny that you can wear it on your belt or stuff it in your pocket or purse.
With AirSep being amongst the first companies to produce and release FAA approved oxygen concentrator models, it is not surprising that they can accomplish such a feat. AirSep Focus is robust, efficient, and durable despite its compact size. It is extremely easy to use and does not require much maintenance. 
This concentrator model is a lightweight innovation with superior technology. It provides oxygen at a 3 LPM pulse, at a fraction of the size of other POC units in the market to date. This unit has a standard package with complete x2 slimline batteries that can power your concentrator for 1.5 hours!  
Weight:

1.75 lbs

Dimension:

6.4" x 4.8" x 2.5"
Inogen is a brand known for creating and designing the smallest portable oxygen concentrators in the oxygen delivering industry. Inogen One G4 is the quietest and lightest oxygen concentrator unit available in the Inogen collection of portable concentrators. At only 2.8 lbs, this pulse flow portable concentrator can easily keep up with huge and larger oxygen units.
G4 is a lightweight portable oxygen concentrator that offers a pulse flow setting of 1 to 3 (630ml/min of 90% oxygen). It has an easy-to-read LCD screen that can detect whether your breathing is sufficient enough or not. Moreover, its three settings and the double battery can provide you with 5 hours of battery life! 
This portable unit can give you quick bursts of oxygen to satisfy your needs if you are exercising. As for when you are sleeping or resting, the oxygen system can offer you larger oxygen doses in a slower manner to correspond with your decreased respiration and breathing rate.
Weight:

2.8 lbs

Dimension:

7.2" x 2.68" x 5.91" 
SimplyGo Mini was designed to help you grow as a person by providing the solid reliability and lightweight, attractive features that today's oxygen therapy patients demand in a POC unit.
With only 5 lbs, this unit earned the title of the most light weight portable oxygen concentrator developed by Philips Respironics. It was created with pure mobility and freedom to effectively assist users and offer them the most hassle-free experience possible. 
It has an attractive and sleek design with easy-to-remove batteries and a clear screen. It is lightweight, intuitive, and comes with a solid and comfortable carry bag or case that you can bring anywhere! 
Weight:

5 lbs

Dimension:

9.4" x 8.3" x 3.6" 
FreeStyle Comfort is the newest lightweight portable oxygen concentrator under the CAIRE brand, a respectable respiratory care equipment and device manufacturer. This model weighs only 5 lbs, but don't let its cute size fool you! It is just as competent as other more prominent and bigger portable oxygen concentrators.
This model offers oxygen users a starling five pulse dose settings of 1 LPM to 5 LPM. This CAIRE concentrator is different from most. Its uniqueness lies in the attractive design with natural and ergonomic curves that makes it more comfortable to wear and carry when out and about. FreeStyle Comfort is easy-to-learn and straightforward, with only three buttons to power the machine and adjust its flow setting. 
It is available with an 8 or 16-cell battery that smoothly slots on the bottom of the machine. Aside from the concentrator itself, CAIRE throws in a few freebies like a carry bag, a universal power supply, and an AC and DC power supply.
Weight:

5 lbs

Dimension:

10" x 7.3" x 3.1" 
Arya's portable oxygen concentrator is an excellent option to consider if you want to enjoy a restriction-less lifestyle. This lightweight oxygen unit will certainly not weigh you down as you try to enjoy your new and portable freedom. With a weight of 5 lbs, this concentrator has five flow settings with a maximum oxygen output of around 1,050ml/min.
With ARYA, you can choose between an 8 battery or a 16 battery portable concentrator. Either one, you will still experience a space-efficient and reliable concentrator that can give you the right amount of prescribed oxygen flow while you restore the freedom you crave so much. 
Weight:

5 lbs

Dimension:

10" x 3.1" x 7.3
For those looking for more flexibility and independence in their lives, Precision Medical's Live Active Five Oxygen Concentrator Kit can deliver. It has a vacuum pressure swing absorption technology and long-lasting battery life that can provide high oxygen purity for long periods.
It is user-friendly with its one-touch start feature and large digital display screen. This model has 1-5 pulse flow settings to deliver all your oxygen needs. Its dual-curved design and controlled minute volume technology make it unique and different from other portable concentrator units.
Weight:

5 lbs

Dimension:

8.4" x 3.2" x 8.5"
6 Benefits of Using light Portable O2 Concentrators
The best way for COPD and oxygen therapy patients to overcome the setbacks and limits of their illness is to invest in a suitable oxygen device. However, several patients are reluctant to use POC units for various reasons, like expensive initial costs. They don't know that they are missing out on a lot.
Here are a few benefits of using a light weight portable oxygen concentrator.
1. Easy Travel
The most lightweight portable concentrators weigh around 5 lbs and less. The weight makes them easy to carry around. They can quickly and discreetly fit inside a shoulder bag or backpack with their small and compact design. You can take them pretty much anywhere!
Read more: Are you allowed to drive with oxygen in your state?
Aside from easy transport, most POCs are excellent for long-distance travel. You can pack them comfortably inside a suitcase or travel bag. They are also FAA approved, so you can use them on domestic and internal flights!
2. Uses Less Space
Another essential benefit of portable concentrators is that they take up less space than other oxygen delivery units and devices. They don't take up a section of your bedroom or living room like a stationary or home oxygen device, which is perfect for those living in small apartments. They are also not as heavy, so you can easily carry and move them around.
3. More Freedom And Independence
The greatest possible benefit of portable light concentrators is the independence they offer to oxygen patients. Independence is what will allow them to freely move around and do things rather than be bound to an oxygen device.
Traditional oxygen machines like oxygen tanks and cylinders can't offer oxygen patients the independence and freedom they want since they easily weigh more than 100 pounds. 
On the other hand, portable oxygen concentrators are entirely self-sufficient and lightweight. Since they are electronic and cordless devices, you don't need access to a wall outlet. Light and portable oxygen concentrators will give you the independence to handle the life you crave without the need to depend on oxygen devices.
4. Reduced Social Stigma
Social stigma is a harsh reality that oxygen therapy patients face daily. A social stigma is a generalized feeling about a particular thing or person. An example is when people see someone in a wheelchair; most are quick to conclude that they are less capable than someone who can walk. Similarly, someone rolling or carrying an oxygen tank may also be seen as less capable. 
Carrying a portable concentrator can reduce the social stigma faced by oxygen patients. For one, a POC does not look like an oxygen device at first glance — most do not even know what a POC is. They also tend to look more high-tech and fancy than the traditional oxygen tanks, which affects the way people view them. 
At the end of the day, oxygen patients are just as capable as anyone else. However, a light portable oxygen concentrator can help prevent people from making generalized assumptions about your condition. 
5. Reduced Symptoms
The goal of a POC is to supplement oxygen to reduce the common symptoms of COPD. That includes chest pain, coughing, breathlessness, wheezing, and more.
Whether you need to receive oxygen several hours a day or 24/7, having an oxygen unit near you is necessary. A portable oxygen unit is ideal for that.
6. Healthier You
The last great benefit of a light portable oxygen concentrator is that it can help with physical activities like exercising. A portable light concentrator is perfect for people who want to maintain being physically active while still complying with their oxygen therapy needs and requirements. 
You can carry a lightweight oxygen unit around. It means you won't have trouble bringing it to the park or gym if you want to exercise or do physical activities. The concentrator can help keep your COPD symptoms in check while you work on getting physically healthier.
Ultimately, owning one also means that you would be able to keep up with your active friends and relatives. Whether it is a hiking trip, camping, or starting a new exercise program, you would be able to do so without worrying about keeping up.
How to Buy Lightweight Portable Oxygen Concentrators?
As mentioned, there are tons of lightweight portable concentrators available today. You will have to seek them out actively and research which ones are light. Below is a simple and easy-to-follow guide on how you can buy a lightweight concentrator.
Step 1: Research 
Since there are many options, you will need to do actual research to narrow down your list of choices. You can start by choosing the brands you trust the most, and from there, you can check the portable concentrator models they have available. 
Step 2: Check The Weight
Once you have a list of brands and models, check their weight. It is a tedious process, especially if you have a long list, but it is essential if you want to find an actual lightweight unit. Five lbs and less is considered light for a portable concentrator.  
Step 3: Consider Other Features
Remove the ones you consider heavy from your list. To narrow your choices down further, consider the other features and specifications of the models. Oxygen output, delivery type, flow setting, and battery life are the necessary features to check. 
Step 4: Decide On One That Suits Your Needs
The last step is deciding on one. Whether it is the lightest, the cheapest, the energy-efficient, or the smallest on your list — as long as you are happy and satisfied with the portable oxygen concentrator is what is most important. 
Related: Best Portable Oxygen Concentrators
FAQs About Portable O2 Concentrator Lifespan
Here are a few frequently-asked-questions that you might have:
How much does portable oxygen concentrators weigh?
Portable oxygen concentrators come in various sizes. The lightest weight tends to be around 5 lbs and less (with or without an external battery mounted). They often have less oxygen output. 
Medium-sized POCs have higher oxygen capacities and weigh around 6-10 lbs. Larger concentrators weigh more than 10 lbs. Stationary concentrators tend to be heavier and typically have a 10 liter per minute oxygen flow. 
What is the lightest weight Inogen?
Inogen's lightest portable concentrator unit is the Inogen One G4. Weighing less than 3 lbs, this oxygen model is focused on offering patients mobility and limitless freedom. This pulse flow oxygen unit is amongst the lightest concentrators on the market today. 
How much does the Inogen portable oxygen concentrator weigh?
The Inogen brand has three central portable oxygen concentrators that took the oxygen delivery industry by storm. Aside from being high-quality oxygen units, they are also lightweight and small. The Inogen One G3, for one, weighs 4.8 lbs with an 8-cell battery. The Inogen One G4 weighs the lightest at 2.8 lbs, while Inogen One G5 is 4.7 lbs in weight. 
What is the weight of Inogen One G3?
The Inogen One G3 weighs just 4.8 lbs, including a single battery. It is small and lightweight, intended for use anytime, anywhere. You may easily throw it inside a bag and bring it on the road with you. 
How much does an Inogen concentrator weigh?
Whether you prefer an Inogen portable or home oxygen concentrator, the weight varies. Inogen's G2, G3, G4, and G5 are lightweight portable oxygen concentrators with weights ranging from 2.8 lbs to 7.25 lbs. This is with G4 being the lightest and G2 being the heaviest. Inogen also offers a home oxygen concentrator that weighs around 18 lbs. 
What is the ideal weight of an oxygen concentrator?
If you like going out, travelling, or doing outside activities, the ideal weight of a portable oxygen concentrator for you is 5 lbs and less. However, note that the smaller the POC is, the lesser the oxygen dosage and capacity. If you have higher oxygen needs, purchasing a heavier portable oxygen unit (around 6-10 lbs) would be ideal. 
Live Healthier and Happier By Investing In A Light Portable Oxygen Concentrator
Out of all the factors you need to consider when choosing a portable concentrator, weight is among the most important.
Some oxygen therapy patients have back pain or other health-related issues that can prevent them from carrying heavy things, so an oxygen tank is a no-go. Fortunately, there are light portable oxygen concentrators in the market you can choose from!
Visit
SpryLyfe
and check our light portable oxygen concentrators to help with your work, travel, exercise, and social life!