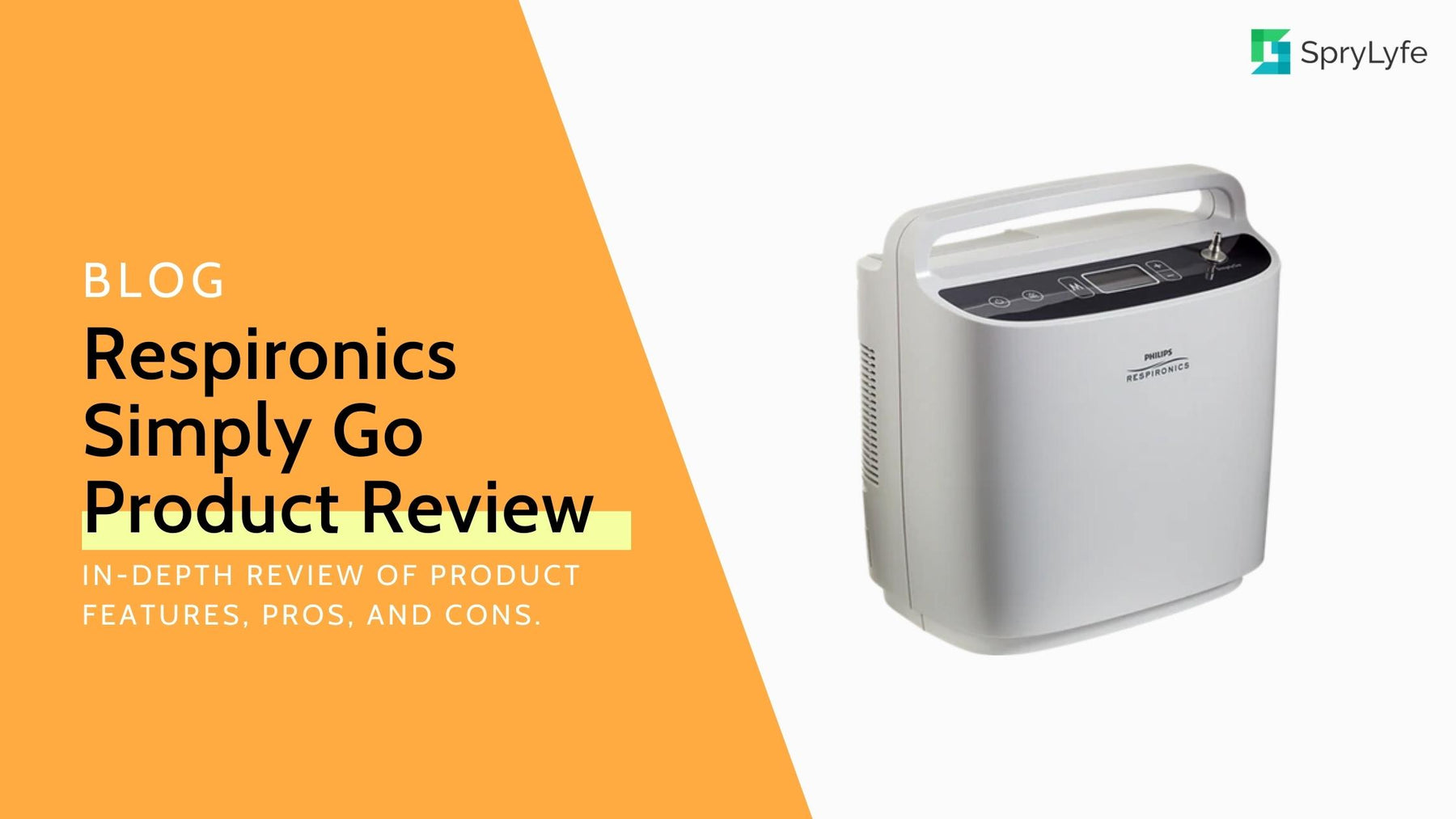 Philips Respironics SimplyGo Portable Oxygen Concentrator Review
If you are looking for reliable SimplyGo oxygen concentrator reviews, this article will help you out! This will guide you with everything you need to know to decide which portable oxygen concentrator is best for you.
Read through and learn about the pros and cons of the product, as well as its reliable features.
Bottom Line Up Front
Having your own portable oxygen concentrator will be life-changing, especially if you get a good one like Philips Respironics SimplyGo. Imagine being able to travel and explore without worrying about your oxygen therapy — isn't that nice?
Now, let us take a look at the pros and cons of getting yourself a Philip Respironics SimplyGo for the supplemental oxygen that you need. 
What You'll Like
Philips Respironics SimplyGo has both pulse dose and continuous flow modes. It is up to you and your condition to use.

This portable oxygen concentrator by Respironics is very portable. It is suitable for home and travel use.

It delivers twice as much oxygen output as the other portable oxygen concentrators that weigh 10 pounds or less.

Philips Respironics SimplyGo is very dependable. It can run for over 15 000 hours for a single motor life.
What You Won't
Although Philips Respironics SimplyGo can provide up to twice the oxygen output of the other POCs of the same weight, carrying a 10-pound device can still be pretty exhausting.
All products have pros and cons, so it is up to you if you are willing to compromise. Nonetheless, we can help you decide by providing a deeper insight on what the Philips Respironics SimplyGo has to offer.
What is Philips Respironics SimplyGo?
Philips Respironics offers SimplyGo as the latest addition to their portable oxygen concentrator line. It is beneficial to OSA patients who are prescribed oxygen therapy.
This device can deliver a high oxygen concentration despite being the same weight as the other oxygen concentrators available on the market. Philips Respironics SimplyGo is designed not just to provide supplemental oxygen, but more importantly, to help patients regain their independence.
Living with the constant need for oxygen therapy can be very difficult and limiting. Thanks to modern technological advancements, portable oxygen concentrators like the Philips Respironics SimplyGo are invented to allow patients to enjoy and explore life.
How Does Philips Respironics SimplyGo Work?
In general, portable oxygen concentrators, including Philips Respironics SimplyGo, work through the same process. 
The device will take air from the room or space and then purify it.
The oxygen will then be compressed afterward.
It will remove nitrogen from the air. Before the air goes into the concentrator, it will have 80 percent nitrogen component and only has 20 percent of oxygen.
Then, the portable oxygen concentrator will do its main job by converting the air to 90 to 95 percent oxygen, leaving only 5 to 10 percent of nitrogen.
Lastly, the remaining nitrogen will be separated, ensuring the highest oxygen concentration possible.
Philips Respironics SimplyGo Features
Philips Respironics SimplyGo has various features that you have to take note of. In this section, we will walk you through the different aspects of the device and give you an overview of what it has to offer.
Design
The unique feature of Philips Respironics SimplyGo is its very convenient design. Its structure allows users to easily access the battery and charge it effortlessly.
While some portable oxygen concentrators give you a hard time reaching the internal battery, SimplyGo will allow you to do so with ease.
Size and Weight
Philips Respironics SimplyGo has a size of 11.5" x 10" x 6" (29.2 cm x 24.5 cm x 15.2 cm). It weighs about 10 lbs (4.5 kg) including its battery.
Portability
Carrying a 10-pound portable oxygen concentrator may not be that easy, but still, SimplyGo is something you can bring with you on your travels. You can purchase a travel card and a carry bag with it so you won't have to carry it manually.
LCD Screen
Philips Respironics SimplyGo has a simple, intuitive dashboard that allows you to manage your on-the-go oxygen therapy easily. It has an easy-to-read display with all the necessary information about your device.
Controls
In the dashboard of the device, various controls are included. There are buttons for modes, alarm silencer, flow setting increase and decrease, and a power button.
Alarms
Philips Respironics SimplyGo has different types of alarms. It will set alarms for Low Oxygen Purity, No Breath/High Breath Rate, No Flow/Low Flow, Depleted Battery/Wrong Battery, and System Technical Fault. These alarms will come in handy in situations where urgent actions are needed.
Sound Level
With a sound level of only 43 dB or less, Philips Respironics SimplyGo only produces a faint sound that is not disruptive. You can bring it anywhere without the fear of distracting those around you.
Battery
Philips Respironics SimplyGo has a lithium-ion battery that has 14.4 VDC 6600 mAh (LiIon) that weighs about 1.5 lbs (0.7 kg). Note that the battery is already in the 10 lbs total weight of the device.
Battery Life
The battery life of Philips Respironics SimplyGo depends on the flow settings and the mode of oxygen delivery. Nonetheless, you can always purchase extra batteries for more extended use.
| | | |
| --- | --- | --- |
| Setting | Pulse Flow | Continuous Flow |
| 0.5 | | 2.9 hours |
| 1 | 3.4 hours | 1.6 hours |
| 2 | 3 hours | 0.9 hours |
| 3 | 2.2 hours | |
| 4 | 1.7 hours | |
| 5 | 1. hours | |
| 6 | 1.3 hours | |
Charging Time
The charging time of Philips Respironics SimplyGo's lithium-ion battery ranges from 2 to 3 hours from fully discharged. The duration is quite fast, considering the device's power consumption and battery life.
Power Sources
Philips Respironics SimplyGo has a DC power input of 11.5 to 16 VDC and 18 A max and a DC power output of 19 VDC and 7.9 A max. The AC power input ranges from 100 to 240 VAC/ 50 to 60 Hz/ 1.7 A maximum, while AC power input is at 19 VDC and 7.9 A max.
Power Consumption
This portable oxygen concentrator from Philips Respironics consumes 150W while charging and 120W when not plugged in.
Flow Type
Philips Respironics SimplyGo offers you both a pulse dose and continuous flow type. You can change the flow mode together with the flow setting according to your physician's prescription.
This combination of the two flow types in a single device gives SimplyGo a competitive advantage over other portable oxygen concentrators in the market. Normally, POCs only deliver oxygen through a single flow type, but Philips Respironics stepped up on their game.
| | | |
| --- | --- | --- |
| | Pulse Mode Bolus Size | Continuous Flow Mode |
| 1 | 12 mL | 0.5 LPM |
| 2 | 24 mL | 1.0 LPM |
| 3 | 36 mL | 1.5 LPM |
| 4 | 48 mL | 2 LPM |
| 5 | 60 mL | |
| 6 | 72 mL | |
Sieve Beds
SimplyGo has sieve beds you can take to professionals for replacement.
Oxygen Concentration
Philips Respironics SimplyGo has an oxygen concentration that ranges from 86% to 97% at all flow settings and types.
Capacity
This portable oxygen concentrator has the ability to run for 24 hours while still providing the required supplemental oxygen. It can operate at a temperature range of 5° to 40°C (41° to 104°F)
Filters
Philips Respironics SimplyGo is equipped with bacteria and particle filters. It filters out bacteria and stops them from entering the interior of the portable oxygen concentrator and contaminating the oxygen that will be delivered to you.
Available Accessories
The Philips Respironics SimplyGo comes with different accessories that you can use. These include five nasal cannulas, a rechargeable battery, AC and DC cords, a carrying case, an accessory bag, and a travel cart. 
FAA-Approval
Philips Respironics SimplyGo is FAA approved for commercial in-flight use. However, we still recommend that you contact your airline prior to boarding to know whether they have additional requirements or regulations.
International Approvals
Philips Respironics portable oxygen concentrators, including SimplyGo, are widely used by people across various countries. 
Altitude
Just like other portable oxygen concentrators, Philips Respironics SimplyGo can work perfectly at altitudes up to 10,000 feet (3048 meters).
Warranty
Philips Respironics SimplyGo comes with an industry-standard two-year manufacturer warranty. However, its design is created to withstand any bumps and bruises that come with daily use. You can always reach out to their customer service for your concerns about the product or download their mobile app.
Manufacturer Country
The Philips Respironics portable oxygen concentrators are manufactured in the United States of America.
Price
The price of Philips Respironics SimplyGo approximately ranges from $3,000 to $4,000, depending on the store you will decide to purchase it from.
Available Philips Respironics SimplyGo Discount
Currently, you can avail up to a 25% discount and get your own Philips Respironics SimplyGo for only $2995.
Philips Respironics SimplyGo Alternatives
If you've read all of the details above and you're still looking for other alternatives, here are some options you can choose from:
1. Inogen One G5
The Inogen One G5 is the latest model Inogen offers. It is lighter than the SimplyGo and has more advanced features. It also has longer battery life of up to 6.5 hours for a single battery and 13 hours for a double battery.
Just like the Philips Respironics SimplyGo, the Inogen One G5 has flow settings of 1 to 6. It also has a lower sound level of 38 dBA, perfect for an Inogen at home. Inogen connects you from your limiting health condition to limitless possibilities through portable oxygen concentrators.
Read our in-depth review of the Inogen One G5 here.
2. Inogen One G3
Alongside G5 and G4, the Inogen One G3 is one of the most popular portable oxygen concentrators on the market. Like the G5, it also offers a longer battery life than Philips Respironics SimplyGo, lasting up to 4.7 hours for a single battery and 10 hours for a double battery. 
Read our comprehensive review of the Inogen One G3 here.
It has flow settings that range from 1 to 5 and is also very small and portable. It is more than half less heavy than Philips Respironics SimplyGo as it weighs 4.8 pounds.
Inogen oxygen concentrators that are easy to carry are offered, which will provide you with the features you need for your oxygen therapy, and Inogen One G3 is just one of them.
3. Respironics SimplyGo Mini
This model is also one of the best lightweight, portable oxygen concentrators, along with the Inogen One G4. It only weighs 5 pounds but has an outstanding battery life of 4.5 hours up to 10 hours with an extended battery.
It also comes with a custom carrying case with a padded shoulder strap upon purchase. Respironics SimplyGo Mini also has a 3-year warranty. 
This SimplyGo Mini offers better performance, longer operational size, and advanced portability compared to SimplyGo. It is much more lightweight and also comes with a warranty upgrade.
Read our expert review of the Philips Respironics SimplyGo Mini here.
4. GCE Zen-O
Watch one of our specialists compare the Respironics SimplyGo and GCE Zen-O portable oxygen concentrators.
FAQs About Philips Respironics SimplyGo
How heavy is the SimplyGo?
Philips Respironics SimplyGo is quite heavy as it weighs 10 pounds (4.5 kilograms). More and more portable oxygen concentrators that are lighter are getting available in the market. 
Good thing Philips Respironics was able to keep up and released Philips Respironics SimplyGo Mini, which has a weight of only 5 pounds. Like the previous version, it is also positively reviewed by respiratory therapists.
How long does SimplyGo last?
Philips Respironics SimplyGo can last for up to 3.4 hours on a single battery charge, depending on the flow type and settings. Meanwhile, it can function for up to 15 000 hours using a single motor life.
With its high-quality parts, long-life compressor, and high impact-resistant design, Philips Respironics SimplyGo is proven rugged. It will last longer, especially if you take good care of it.
How do I charge my SimplyGo?
You can charge your Philips Respironics SimplyGo using two charging options. You can either do it using DC or AC power.
It also comes with a rechargeable lithium-ion battery and uses DC and AC for backup power sources. 
Why is my Philips SimplyGo beeping?
When your Philips Respironics SimplyGo suddenly goes beeping, it means that an alarm is set. It is set to notify you with urgent information regarding the status of your device.
The alarm can meet different things. It can be due to low oxygen purity, no breath/high breath rate, no flow/low flow, depleted battery/wrong battery, or system technical fault.
Is Philip Respironics SimplyGo The Best Portable Oxygen Concentrator For You?
Philips Respironics SimplyGo is one of the most reliable portable oxygen concentrators you can consider getting for your daily oxygen requirements.
Click here if you want to buy your own Simply Go online. 
Otherwise, call us at (800) 314-8225 and talk to one of our specialists if you're not sure about what portable oxygen concentrator to buy. We're more than happy to assist you and answer any question you might have.
For more concentrator options, visit us at
SpryLyfe
and take a good look at the products we offer.