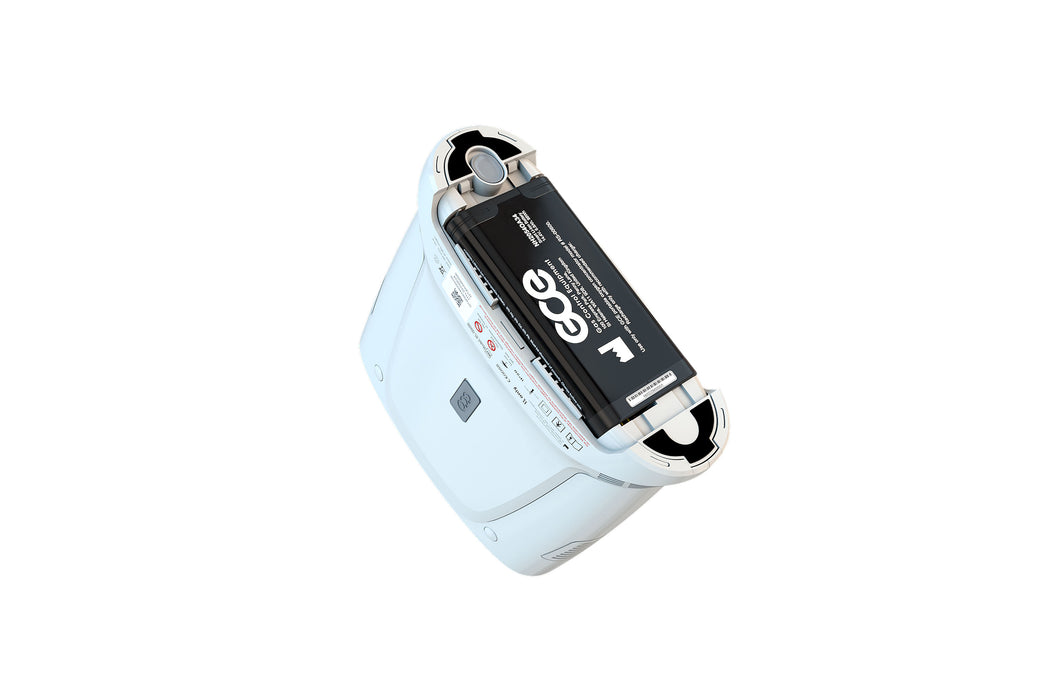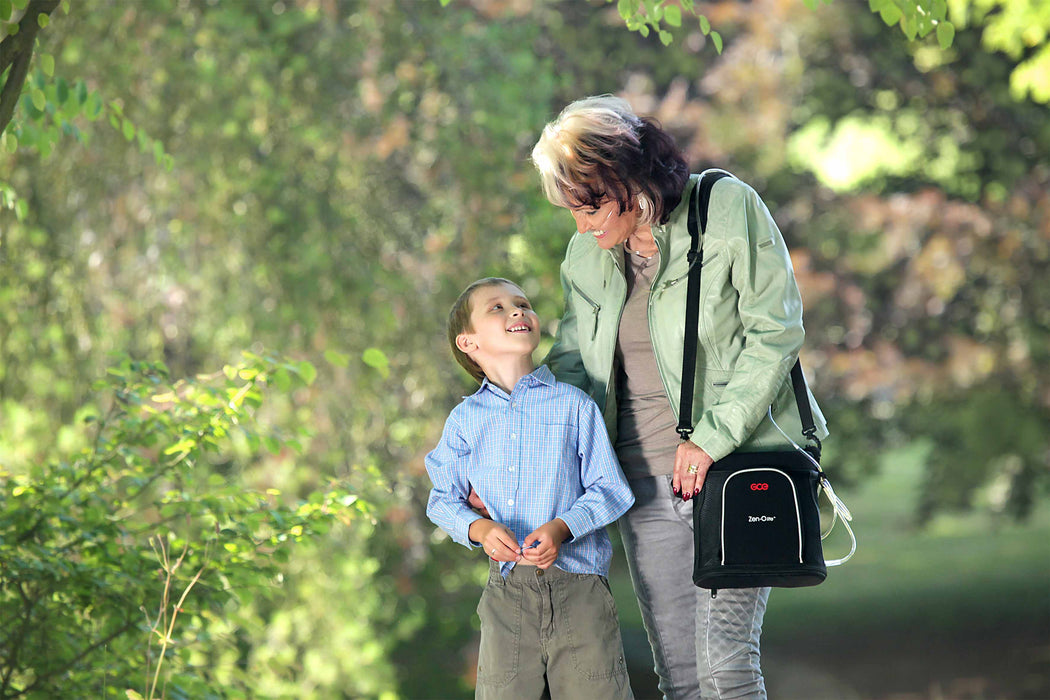 GCE Zen-O Lite Portable Oxygen Concentrator
Zen-O Lite Features & Benefits
Pulse flow setting automatically responds to breathing

1050 ml of

 

oxygen per minute

User-friendly control panel with intuitive buttons

Replaceable sieve tubes

Low noise operation

Long battery life

Breath detection

FAA-approved

Visual and audible alarms to ensure that

 

oxygen is being delivered
Are you looking for a lightweight POC that can give you freedom and active life while also satisfying your oxygen needs? You can stop your search and settle with the GCE Zen O Lite portable oxygen concentrator.

Zen-O Lite is an ultra-light portable oxygen unit manufactured by GCE Healthcare to help and assist active patients with long-term oxygen therapy! This portable oxygen unit is one of the lightest and quietest portable concentrators on the market today.
With Zen-O Lite Portable Oxygen Concentrator, you can start living an active and fuss-free life thanks to its low-noise operation (37 dBA) and long battery life. Zen-O Lite has a robust construction that permits you to press ahead with your daily life, confident that it can perform at optimum level in most situations. 
The Zen o lite portable oxygen concentrator offers a simple portable solution for oxygen patients with its maximum oxygen output of up to 1050ml per minute in an automated pulse mode. That means it automatically responds to the user's breath rate! It won't matter if you are climbing the stairs or exercising; this unit will adjust to meet your specific oxygen needs.
Replacing sieve beds is a maintenance requirement for portable concentrators. Sending your POC for repair means you need to go without your medication for some time, or you need to find a temporary replacement. GCE recognized this issue and offered a solution — you can replace the sieve tubes/beds at home in under 5 minutes.
This oxygen unit is also clinically validated for 24/7 use and is FAA-approved. You can now enjoy home oxygen therapy and travel long distances at the same time without much worry.
Zen-O Lite Components
What should you expect when you purchase a Zen-O Lite unit?
GCE Zen-O Lite Portable Oxygen Concentrator Unit

8-Cell Batteries (2)

AC Power Supply

DC Power Supply

User Manual

Carry Bag

Nose Cannulas

3-5 Year Warranty

Quick Reference Guide
Zen-O Lite Size
Width: 9.8 inch

Height: 9.1 inch

Depth: 3.8 inch

Dimension: 9.8" W, 3.8" D, 9.25" H / 249mm (W), 97mm (D), 235mm (H) 

Concentrator Weight: 5.5 lbs 

Carry Bag Weight: 0.4 lbs

Battery Weight: 0.9 lbs
Zen-O Lite Performance
Maximum Pulse Flow Minute Volume: 1050 ml at 32 BPM

Oxygen Concentration: 87% - 96% at all flow rates, over operating conditions

Maximum Outlet Pressure: 20.5 psi

Inspiratory Trigger Sensitivity: -012 cm / H2O

Pulse Flow Settings: 1 - 5 with 0.5 incremental adjustments
Zen-O Lite Operating Conditions
Noise Level: 37 decibels

AC Input: 100-240V AC (+/- 10%) 50-60Hz

AC Output: 24VDC, 5.0A

DC Input: 11.5 - 16 VDC

DC Output: 24V, 5.0A

Battery: Lithium-Ion 8-Cell Battery

Battery Duration: 4.5 Hours set at setting 2 (using both batteries)

Battery Recharge Time: 3 Hours

Humidity: 5% to 93% +/- 2% non-condensing

FAA-Approved: Yes

Altitude: 0 to 13,000 (0m to 4,000 m) feet above sea level
Zen-O Lite Accessories
AC Power Supply

DC Power Supply

Replacement Sieve Beds

Cannula Wrench

External Battery Charger

8 Cell Battery

Custom Carry Bag
Zen-O Lite Specifications Table
Brand

Weight

Dimensions

Oxygen Concentration

87% - 96% at all settings over the rated environmental range

Flow Settings

Sound Level

Power

AC Power: input 100 - 240 VAC, 50/60 Hz, 24VDC, 5.0A

DC Power: input 11.5 - 16 VDC, 24V, 5.0A

Battery Duration

Charge Time

Operating Conditions

Temperature: Between 41°F (5°C) and 104°F (40°C)

Humidity: 5% - 93%, non-condensing 

Altitude: Up to 13,000 feet (4,000 m)

Accessories

5% to 93% +/- 2% non-condensing

Warranty
Zen-O Lite Resources
Zen-O Portable Oxygen Concentrator Manual 
Buy Zen-O Lite At Sprylyfe
If you are interested in purchasing a Zen-O Lite unit, you can check it out at SpryLyfe! We offer free shipping, exclusive discounts, money-back guarantees, and various payment plans. Visit our page or contact our team at 800-314-8225 if you need any assistance. 
Zen-O Lite Frequently Asked Questions
Can I drive with a Zen-O Lite portable oxygen concentrator?
Yes, you can. You can drive with your Zen-O Lite unit since it is FAA-Approved To avoid complications, abide by the state's laws regarding the unit's usage. Also, ensure that you follow the guidelines in caring for and maintaining your device while traveling. That includes keeping it out of direct sunlight, fire, and smoke.
This guide can give you more information about driving with a portable oxygen concentrator.  
Can I sleep with a Zen-O Lite portable concentrator?
Yes, you can sleep with a Zen-O Lite. It is clinically validated for 24/7 use and has low-noise operations for uninterrupted sleep. This device at night can help boost your mood, prevent health risks, and reduce insomnia. 
Read this guide about sleeping with a portable oxygen concentrator to know more.
Can anyone use a Zen-O Lite oxygen concentrator?
Not just anyone can use a Zen-O Lite. There is a danger in receiving too much oxygen, a risk that can lead to Oxygen Toxicity. Only people with an actual need for oxygen are advised to use Zen-O Lite. Typically, they are people with breathing problems, heart disease, and those at high altitudes. Browse through this article about people who can use portable oxygen concentrators to know more.
Can I buy a Zen-O Lite portable concentrator with no prescription?
Technically, you can buy a Zen-O Lite even without a prescription. You don't need one to buy from sites like Amazon. Though, that is not advisable nor ideal. Purchasing a Zen-O Lite or any POC unit without a proper medical prescription can yield health risks and consequences. Getting a prescription is always safer and better than buying without it. 
Read this article about buying a POC without a prescription to learn more about these consequences. 
What are the benefits of using a Zen-O Lite portable oxygen concentrator?
There are several benefits to using Zen-O Lite. Among the most notable ones are its long battery life, lightweight design, compact size, quiet operation, and hassle-free traveling. It also offers more freedom and independence, which promises a more active lifestyle. Here is a blog post about the benefits of using POC units if you want to learn more!
How many watts does Zen-O Lite produce?
Every POC differs in terms of watts. For Zen-O Lite, it consumes about 25-70 watts at flow setting two while charging. Tune in on this article about how many watts portable concentrators use to know more about it!
How long does Zen-O Lite portable concentrator last?
One of the most critical factors of a POC unit is its battery life. The longer battery life it has, the longer time you have outside. Zen-O Lite, in particular, can last up to 4.5 hours on setting 2. This number will differ depending on the setting you use. 
Jump to this post to know more about how long portable concentrators last. 
Do you sell a pre-owned and refurbished Zen-O Lite portable oxygen concentrator?
Yes, and it's not just Zen-O Lite units either. We offer pre-owned and refurbished portable oxygen concentrators at a much lower cost than most online retailers. Just browse through our selection to see all available POC units, or call us at 1-800-314-8225 to know more! 
How does financing with Sprylyfe work?
SpryLyfe's financing works with a return and exchange policy, wherein customers can return or exchange their device within 30 days of receipt of the product. This policy ensures that the product is to your satisfaction! Visit our website to learn and know more about this policy!