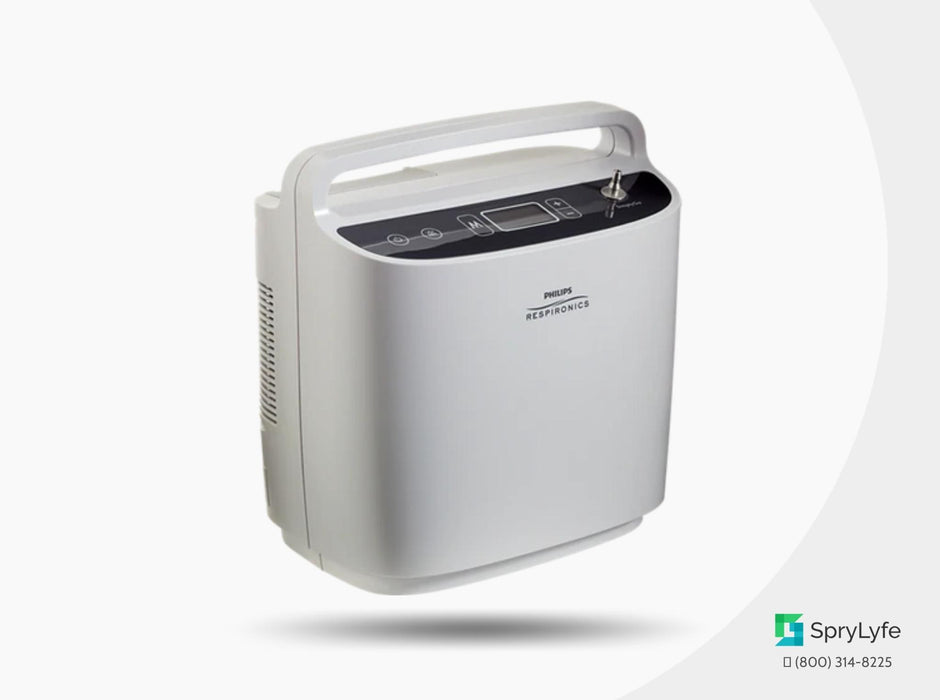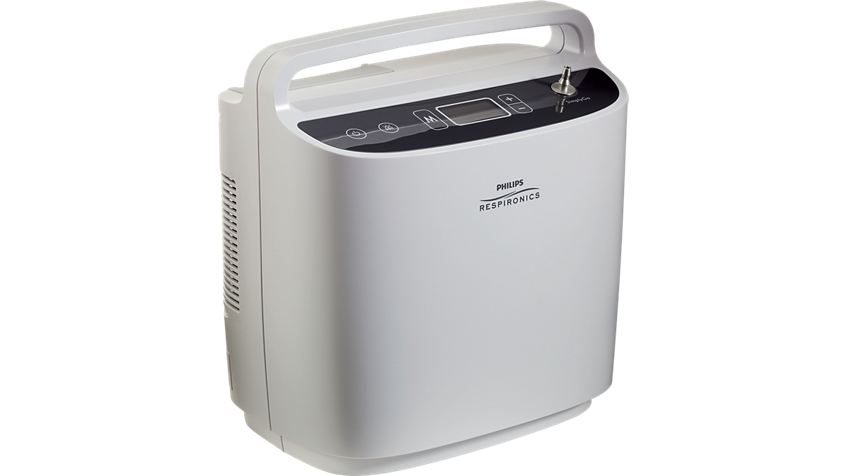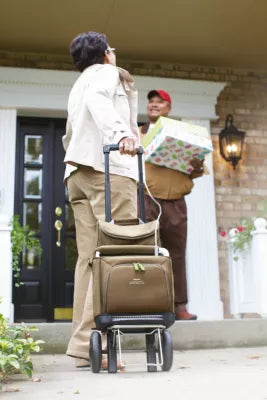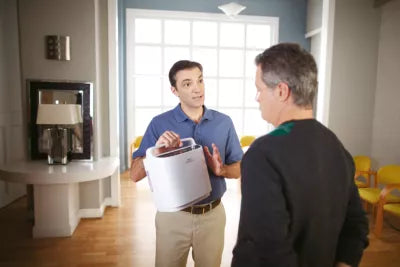 Respironics SimplyGo Portable Oxygen Concentrator
Living with the need for regular oxygen therapy can be limiting for oxygen users. Fortunately, nowadays, there are various portable oxygen concentrators on the market that you can choose from.

Philips Respironics SimplyGo portable concentrator is one of the top-rated and reliable POCs you can consider to accompany you in your daily activities. It is a concentrator that can deliver oxygen through either pulse or continuous flow mode settings. 
The Simply Go oxygen concentrator has a compact, sleek design and is lightweight enough to carry with you anywhere. It promotes freedom and independence among oxygen patients, allowing you to live your life without reduced limitations. 
It is also FAA approved for in-flight use. You won't have to worry about traveling on air as Respironics SimplyGo will go with you and provide you with the flow of oxygen you need.
Simply Go portable oxygen concentrator is equipped with a durable battery that can last for an ample amount of time. In case it runs out of battery, you can always purchase an extra battery and use DC or AC power for battery charging.
Having a Respironics SimplyGo will certainly give your life ease. It is a very convenient device that is set to help oxygen users enjoy life like normal people.
Respironics SimplyGo Components
SimplyGo portable oxygen concentrator

Standard rechargeable lithium-ion battery

AC power cord

DC power cable

Easy-to-read LCD control panel, built-in oxygen purity monitor

A nasal cannula (soft tip)
Respironics SimplyGo Features and Benefits
Up to 2 liters per minute continuous flow oxygen therapy delivery

6 Pulse flow oxygen delivery settings

Attractive sleek and modern design

User-friendly interface

Alarm system

Sleep modes

Can work in altitudes up to 10,000 feet

Full manufacturer warranty

Lifetime technical support
Respironics SimplyGo Size
Width:

6 inches (15.2 cm) 

Height:

10 inches (25.4 cm)

Depth:

11.5 inches (29.2 cm)

Concentrator Weight:

10 lbs (with battery)

Carry Bag Weight:

Lightweight

Battery Weight:

1.7 lbs
Respironics SimplyGo Performance
Maximum Pulse Flow Minute Volume: 72 mL

Oxygen Concentration: 86% to 97% at all settings

Maximum Outlet Pressure: 

Inspiratory Trigger Sensitivity: 

Pulse Flow Settings: 1 to 6 flow settings
Respironics SimplyGo Operating Conditions
Noise Level: ≤43 dB at pulse setting 2

AC Input: 100 to 240 VAC/ 50 to 60 Hz/ 1.7 A max

AC Output: 19 VDC and 7.9 A max

DC Input: 11.5 to 16 VDC and 18 A max

DC Output: 19 VDC and 7.9 A max

Battery: Lithium-ion battery 

Battery Duration: 3.0 hours (pulse dose setting 2), 0.9 hours (continuous flow mode)

Battery Recharge Time: 2 to 3 hours from fully discharged to full charged

Humidity: 15% to 93% relative humidity

FAA Approved: Yes

Altitude: Up to 10,000 feet (3048 m)
Respironics SimplyGo Accessories
Carrying case

Shoulder strap

Custom accessory bag

Two-wheeled mobile cart

AC power supply

DC power supply

Battery

Manual tubing
Respironics SimplyGo Specifications Table
Brand

Philips

Weight

10 lbs with battery installed

Dimensions

11.5 in x 10 in x 6 in (29.2 cm x 25.4 cm x 15.2 cm)

Oxygen Concentration

86% to 97% at all settings

Flow Settings

Pulse Dose Mode and Continuous Flow oxygen delivery

Sound Level

43 dBA

Power

AC Power: 100 to 240 VAC/ 50 to 60 Hz/ 1.7 A max

DC Power: 11.5 to 16 VDC and 18 A max

Battery Duration

3.0 hours (pulse mode setting 2); 0.9 hours (continuous flow mode)

Charge Time

2 to 3 hours from fully discharged to fully charged

Operating Conditions

Temperature: 5° to 40°C (41° to 104°F)

Humidity: 15% to 93%

Altitude: 10,000 feet (3048 m)

Accessories

Custom carrying case, shoulder strap, accessory bag, two-wheeled mobile cart, AC power supply, DC power cord, battery, manual tubing

Warranty

3-year manufacturer warranty on device, 90-day warranty on all accessories
Respironics SimplyGo Resources
Buy Respironics SimplyGo at Sprylyfe
Have you made up your mind about buying the high-quality and very convenient portable oxygen concentrator by Philips Respironics? What are you waiting for? Get your Philips Respironics SimplyGo on Sprylyfe and avail a good discount.
You can also enjoy a free shipping discount along with a 30-day Money Back Guarantee! Not only that as we also offer a wide range of payment plans. We also have specialists that will help you together with our very accommodating customer support.
Respironics SimplyGo Frequently Asked Questions
Can I drive with a Respironics SimplyGo portable oxygen concentrator?
Yes, driving with Philips Respironics SimplyGo is possible and very easy as long as you follow the instructions. You can read more about driving with a portable oxygen concentrator through this guide. 
The compact and sleek design of SimplyGo makes it easier to use while driving. As long as you keep your focus on the road, it will be as easy as driving without it.
Can I sleep with a Respironics SimplyGo portable oxygen concentrator?
Yes, you can sleep while using your Philips Respironics SimplyGo as it has a sleep mode or Intelligent Delivery Technology. Enabling this will set the device to work for night use.
Just make sure that it has sufficient battery before you put yourself to sleep. Learn some more tips by reading this article on sleeping with a POC.
Can anyone use a Respironics SimplyGo portable oxygen concentrator?
No, using Respironics SimplyGo or portable oxygen concentrators, in general, is not for everyone. It is only recommended for use as a treatment option for chronic lung illnesses like chronic obstructive pulmonary disorder (COPD).
Portable oxygen concentrators are used by patients who require oxygen therapy but want to stay active. This blog on who can use POC can help you understand more of its use, so take your time to read. 
Can I buy a Respironics SimplyGo portable oxygen concentrator with no prescription?
No, because you will need to personally consult a physician for a prescription before you can buy a Respironics SimplyGo. Although you can still buy other POCs from the market, they are non-medical grade.
Non-medical grade concentrators are unsafe to use and may not provide you with the oxygen concentration you need. Learn more by reading this article on buying portable oxygen concentrators without a prescription.
What are the benefits of using Respironics SimplyGo portable oxygen concentrator?
Using the Respironics SimplyGo comes with a lot of benefits. The most important one is receiving the amount of oxygen that you need.
It is also very convenient as it is easy to carry and offers both continuous and pulse flow settings. For more information, check out this blog about the benefits of using portable oxygen concentrators.
How many watts does Respironics SimplyGo produce?
On average, Respironics SimplyGo produces the same amount of watts as the other portable oxygen concentrators. Normally, it ranges from 120 watts for smaller devices and up to 600 watts for larger devices. 
Portable oxygen concentrators can consume an ample amount of electricity, adding cost to your bill. Learn tips on how to save energy in this guide about the amount of watts POCs use. 
How long does Respironics SimplyGo last?
Respironics SimplyGo can last several years and even longer with proper and regular maintenance. On average, portable oxygen concentrators can last up to 4 to 7 years. 
Various factors affect their lifespans like humidity, temperature, cleanliness, and usage frequency. Learn more about extending their lifespan through this article on how long portable oxygen concentrators last.
Do you sell a pre-owned and refurbished Respironics SimplyGo portable oxygen concentrator?
Yes, here at Sprylyfe, we offer not just brand-new units but also refurbished and pre-owned ones. You can check out our price list of portable oxygen concentrators to see if anything fits your budget.
Although you can browse for refurbished units on our site, our inventory keeps changing, so it's better to contact us directly. You can call us at 1-800-314-8225 to secure a good deal.
How does financing with Sprylyfe work?
Sprylyfe makes sure that our customers are satisfied with our products and services. With that, we offer our financing return and exchange policy on our merchandise. 
You can use our policy within 30 days of receipt of our merchandise. Just make sure to notify us of the issue within 48 hours after receiving the item.