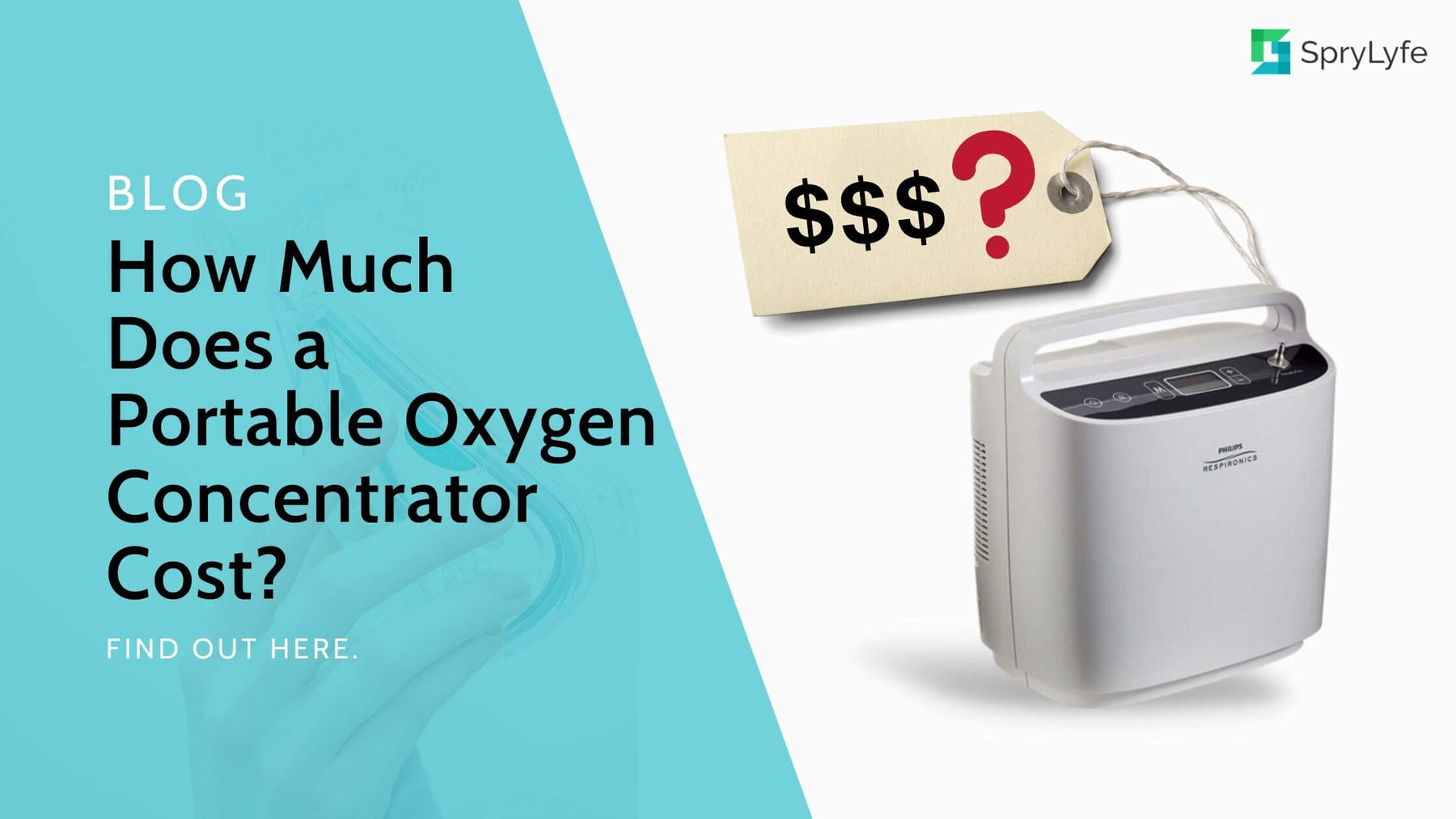 How Much Does a Portable Oxygen Concentrator Cost? [Pricing Guide]
In this post, let's talk about how much does a portable oxygen concentrator cost. If you plan to purchase one, we'll help you pick the best. 
If you want an in-depth guide about what a portable oxygen concentrator is and how it can help you, be sure to check out this article.

In this article, you'll learn:
How Much Do Portable Oxygen Concentrators Cost?
Portable oxygen concentrators cost anywhere between $1,495 to $3,495. The price differences are due to the battery capacity, concentrator features, and other unit accessories. If this is too expensive, you can choose to buy a used device, which may cost around $800 to $2,000 depending on its condition. 
If you choose to buy a brand-new unit, some ways may help you pay for it. Interested? You would want to keep on reading to find out how.
Does Insurance Cover A Portable Oxygen Concentrator?
Some insurance like Medicare does not cover the cost of portable oxygen concentrator. The equipment included in their coverage is oxygen tanks and supplies for in-home concentrators. We know how much do portable oxygen concentrators cost, and they can be expensive.
If you have other existing insurance, you can maximize your chance of getting coverage by preparing your paperwork in order. This includes your test results, how often you will require oxygen therapy, and the severity of your condition, be it sleep apnea or anything else. Your doctor should write the mentioned medical information alongside the order for portable concentrators. 
If your initial claim is unfortunately denied, you can make an appeal in which you will document the reasons why you need a portable oxygen concentrator instead of a tank. While writing this, take your time and be sure to include all ways that can be fulfilled by the portable concentrators' purposes only. You can include how it may help improve your quality of life with the addition of details regarding your personal and professional experiences.
There is a bigger chance for your appeal to be acknowledged if you include more details about why you need a concentrator. 
To help you get started with this process, this is a list of the insurances that can provide coverage for your portable oxygen concentrator:
Medicare

Health Savings Account (HAS)

Flexible Spending Account (FSA)

CareCredit
In the next part, we are going to discuss each of them further.
4 Ways To Pay For A Portable Oxygen Concentrator
If you currently don't have the money to purchase a reliable portable oxygen concentrator, these are four payment options that you can try to get your machine:
1. Medicare
Medicare coverage has four parts, and medical equipment like an oxygen concentrator is covered in part B. An oxygen tank supply, other accessories, and a portable oxygen concentrator rental in particular cases are the only inclusions in the coverage. However, the rules may vary depending on which plan you are on.
2. Health Savings Account (HSA)
Portable oxygen concentrators are eligible for reimbursement with your HSA. Some stores online also acknowledge this type of payment. Other than concentrators, you can also use this account to spend on other medical devices: catheters, dressings, protective underwear, bandages, drainage bags, gloves, and more. 
3. Flexible Spending Account (FSA)
No matter how much is portable oxygen concentrators, you can get a reimbursement with your FSA. You can only utilize it for qualified medical expenses defined by the IRS. It's still best to talk to someone reliable to ensure that this will work in your case. 
4. CareCredit
CareCredit is a widely accepted credit card for financing different medical equipment and supplies purchases like the portable oxygen concentrator. You can also use their promotional financing.
It is convenient, and you can use the CareCredit card multiple times if the credit is available. They have an application that you can download, and it will show you nearby suppliers that accept their credit. 
What Is The Cheapest Portable Oxygen Concentrator?
The cheapest portable oxygen concentrator is Inogen G3. Inogen's portable oxygen concentrators are a staple in the industry. At such great value, you can get a unit with excellent quality and performance that has been proven over the years.
The Inogen G3 is designed for easy transportation. It is light, convenient to use, and will improve the quality of life of its user. The machine itself is relatively small, and you wouldn't need a carrying case anymore to bring it wherever you go.
It delivers oxygen as much as you need no matter where you are and what you are doing. This is the best device to keep up with any of your active lifestyles. 
Flow Type

Pulse dose

Liters per minute (LPM)

Up to 1.05 liters per minute

Weight

4.9 pounds including 8 cell battery

Battery life

Runs on 8 cell single battery; can take up to 16 cell

Sound level

39 decibels

Dimensions

Width - 8.75 inches
Depth - 3 inches
Height - 8.25 inches

FAA approved

Yes

Price

$2,295

Pros

Lightweight and transportable

Cons

No continuous flow oxygen setting
What Is The Most Expensive Portable Oxygen Concentrator?
When talking about the leading units of portable oxygen concentrators, it is impossible not to include the ARYA portable oxygen concentrators. Offering five flow settings, you cannot be lacking with its oxygen delivery. Despite its oxygen concentrator cost, the purchase is worth it with its lifetime warranty and a five-year warranty for its molecular sieve beds. 
You can bring it while traveling by car, train, or airplane as the FAA approves of this machine. It is not bulky and would not weigh you down with your endeavors. Depending on which one works best for you, it can also come with either an 8-cell or a 16-cell battery.
Flow Type

Pulse dose

Liters per minute (LPM)

Up to 5 liters per minute

Weight

5 lbs on 8 cell battery; 6 lbs on 16 cell battery

Battery life

4 hours on 8 cell battery; 8 hours on 16 cell battery

Sound level

43 decibels

Dimensions

Width - 10 inches
Depth - 3.1 inches
Height - 7.3 inches

FAA approved

Yes

Price

$3,495

Pros

Lightweight and transportable
Lifetime warranty
Free one year supply of nasal cannula

Cons

No continuous flow oxygen setting
How To Choose A Portable Oxygen Concentrator Based On Your Budget?
Do you need a portable oxygen concentrator, but you are currently on a tight budget? Here are some suggestions that you can follow to maximize your money without compromising the quality of a unit you wish to purchase:
1. Know your needs
Before buying any medical devices, you should be certain of what you exactly need. Whether it is advice from a doctor or from what your condition requires from you, it will help you find the product that will satisfy the demand.
Not being certain of your needs can lead to excessive spending and going overboard with the items that you don't exactly call for at the moment. For example, if you only need around a flow rate of 3 and below liter per minute, then you can opt for cheaper ones. Units with higher liters per minute LPM tend to cost more expensive.
2. Set a price range that fits your budget
Another thing that you can do to limit your spending is to set a price range of what you can only use. In this way, your choices will be narrowed down to a certain scope of products within that area.
3. Do your research
You don't have to settle for the cheapest product only to save money. Of course, you should still consider the quality of the machine and that it will be able to support you. By doing your research prior to the purchase, you might find the best portable oxygen concentrator that is within your price range, good quality, and reliable. 
3 Budget-Friendly Tips For Buying Portable Oxygen Concentrators
If you are aiming for a more budget-friendly purchase, here are a few tips that you can follow to save some money while purchasing portable oxygen concentrators:
1. Buy through Medicare
Medicare is reliable insurance coverage for medical equipment. If granted eligibility, they can help you and reimburse your initial payment for a portable oxygen concentrator. However, be sure to do your research thoroughly, as most insurance providers have sets of qualifications and rules to follow before granting coverage.
Aside from Medicare, you can also check out the other accounts you may be eligible for reimbursement for, such as your existing HAS, FSA, and the CareCredit. 
2. Shop online for the best deals
You may spot great deals with portable oxygen concentrators online if you are keen enough. Many stores offer exclusive sales that you wouldn't find in any physical store.
If you are interested, you might want to check out the great deals on the Sprylyfe website. We are talking about discounts and free shipping for Inogen, Respironics SimplyGo, CAIRE, and more!
3. Purchase used portable oxygen concentrators
Many people are afraid of buying used medical devices, like a portable oxygen concentrator, due to several reasons. However, this is an excellent option if you are on a tight budget.
Of course, you wouldn't be using a second-hand nasal cannula and mask for hygienic purposes. Still, many listings offer great quality concentrators at such reasonable prices.
FAQs About The Cost of Portable Oxygen Concentrators
Are portable oxygen concentrators covered by Medicare?
Unfortunately, Medicare only covers the rental of oxygen supply equipment under the durable medical equipment coverage. The portable oxygen concentrator cost is not included, but the rental fee is possibly covered under certain circumstances. However, be informed that you must meet the qualifications first before being granted the insurance. 
Where to get cheap portable oxygen concentrators?
Usually, you will be able to find cheap portable O2 concentrators online. Many sites have listings of both brand-new and used units. When scrolling through the internet, be sure to verify if the site is legitimate first and beware of possible scams. As much as possible, purchase from reliable websites that sell portable oxygen concentrators only.
What is the lifespan of a portable oxygen concentrator?
A portable oxygen concentrator has a lifespan of 1,500 to 2,000 hours. If the device is not often used, it may last for years with good maintenance. Other reasons affect its life, like temperature, damaged parts, and other environmental factors. On the other hand, heavier machines tend to be more durable, lasting around 15,000 to 20,000. 
How often should a portable oxygen concentrator be serviced?
You should service a portable and home oxygen concentrator every three months or at least once a year. This includes cleaning the inlet filter and letting a maintenance technician verify if the oxygen purification still works well. They will also check the machine's pressure, flow rate, and if it can still provide at least 90% oxygen purity. 
How much is the cost to run a portable oxygen concentrator 24/7?
Since the cost of a portable oxygen concentrator is only paid during the initial purchase, there is no recurring cost to it even if you use it 24/7. However, if we are going to break it down, including the cost of part replacements and expected service, it may be anywhere around $1.64 to $2.28 per day, depending on the unit.
Invest In A Portable Oxygen Concentrator Today!
That's everything you should know about how much does a portable oxygen concentrator costs and other factors that might come in your way in the process of buying. If you are going to purchase one, be sure to invest in a good quality machine to get your money's worth in the long run.
While you are here, come and check out our site, SpryLyfe, and take advantage of our great deals and offers. We have discounts on your favorite concentrators like Inogen, CAIRE, Philips Respironics, GCE, and ARYA that you wouldn't find anywhere!