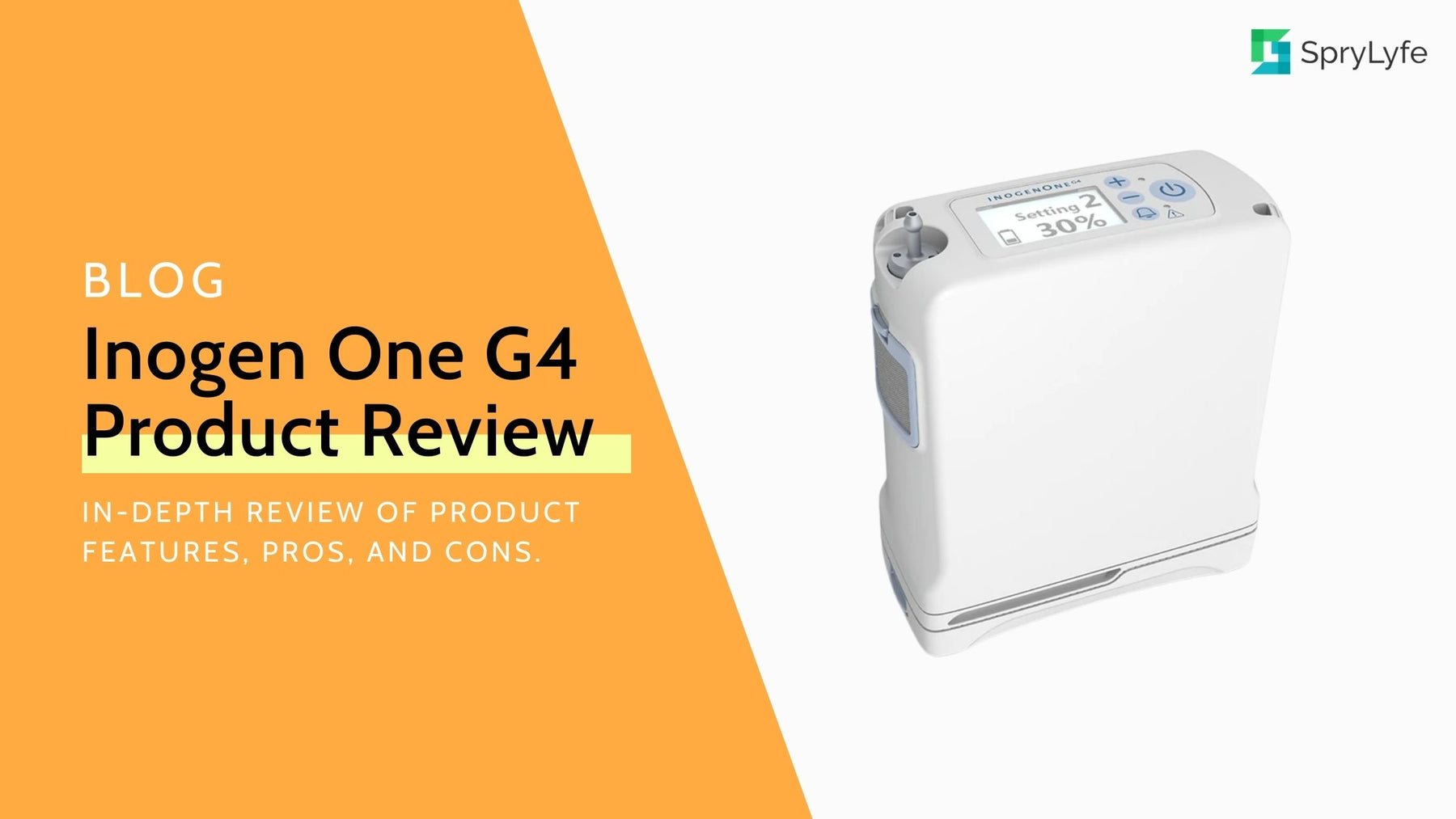 Inogen One G4 Portable Oxygen Concentrator Review
Looking for an in-depth Inogen G4 review that will answer all your questions about the product? You can stop your search now since you are in the right place! 
This extensive review will give you what you need and more about the Inogen G4! 
Bottom Line Up Front
The Inogen One G4 is a standard for light and compact oxygen devices in the portable oxygen concentrator market. Using it can certainly change your life in more ways than one! You can kiss your sedentary lifestyle goodbye since this oxygen concentrator will bring you back to a more active way of living!
What You'll Like
Here are the specific pros that you will probably like about Inogen G4:
Impressively small and compact size

Weighs under 3 pounds

Intelligent delivery technology

Variety of add-on accessories for customer's comfort
What You Won't
Like any other oxygen concentrator on the market, Inogen G4 does have its flaws.
Shorter battery life (5 hours) compared to other Inogen
There is so much to learn about Inogen G4. Just knowing the pros and cons is barely scratching the surface! 
If you want a comprehensive and honest review of the Inogen product, continue reading below. This article will give you a peek at what you will miss out on if you don't choose Inogen G4!
What is Inogen G4?
The Inogen One G4 is currently the lightest model and unit in Inogen's line of portable oxygen concentrators. Inogen One G4 is a portable concentrator used on a prescriptive basis by respiratory patients who need supplemental oxygen. 
Patients may include and are not limited to those with COPD or chronic obstructive pulmonary disease. Supplemental oxygen helps increase the fraction of oxygen in the patient's lungs to help prevent and ease respiratory conditions and symptoms. 
How Does Inogen G4 Work?
This unit works like any other portable oxygen concentrator unit. It filters the oxygen molecules in the ambient air to provide patients with more than 90% pure oxygen. The POC unit concentrates the oxygen from the gas supply by removing the nitrogen to supply patients with the oxygen-enriched product.
The Inogen One G4, in particular, uses an Intelligent Delivery technology, which works to transform and convert the air into oxygen immediately. 
Inogen G4 Features
Inogen One G4 does not just deliver oxygen — it also delivers several benefits. Browse through these features and see just how valuable and convenient this model is compared to others.
Design
The Inogen G4 is a light portable oxygen device with a sleek and compact design. You can throw and carry this over your shoulder or back without fear of it destroying your outfit of the day. Furthermore, it has an easy-to-use interface that is easy to understand and learn.
Size and Weight
The Inogen G4 may come in a small package and body, but it sure packs many benefits. Measuring only 7.2 inches high, 5.91 inches wide, and 2.6 inches deep, this POC unit is truly something you can carry around effortlessly. Pair that up with its lightness, 2.8 pounds, and you have yourself a highly portable mobile oxygen unit that you can bring with you at any time and place.
Portability
As mentioned in this and other Inogen G4 oxygen concentrator reviews, this model is among the lightest POC units in the market. It means it promises endless convenience and portability to users.
With this POC, you can abandon your sedentary lifestyle. You can now go out of your house for more extended periods, travel longer distances, and enjoy more activities without worrying that you'll run out of oxygen.
LCD screen
The Inogen G4 features a backlit user-friendly LCD screen with four large push buttons. The battery life is displayed numerically on the screen. Moreover, the large font text makes checking the unit's flow settings easier and more convenient. 
The device also has two LED indicators; one for alerts and changes in operating hours and the other one for breath detection. A flashing LED means a higher priority alert. 
Controls
The G4 model has a simple and basic control panel like any other POC unit. It is located at the top of the device, easily viewable and accessible even if you move it around. 
Alarms
Inogen G4 has specific alerts that can set off the device's alarm. Special warnings, low priority errors, medium priority errors, and high priority errors can trigger the alarms. You can find the significance and meanings of these alerts in the user manual that your device came with. 
Battery
There are two available rechargeable Lithium-Ion batteries for this model; a single (4 cell) battery and a double (8 cell) battery. Both batteries are designed for the use of other Inogen POC models, including the Inogen One G3 and Inogen One G5 units. 
Battery Life
The G4 unit's double battery life can last up to 4.7 hours using setting 2. It can last up to 3 hours using the highest setting and about 6 hours using the lowest. 
Charging Time
A fully depleted Inogen G4 single battery can take up to 3 hours to charge entirely. As for a double battery, it can require up to 5 hours to fully charge.  
Power Sources
Inogen G4 uses either a single or double battery as its primary power source. You may plug it into an outlet or power source at home and use external batteries while out on the road. 
Power Consumption
The Inogen G4 model is incredibly energy-efficient. It has an average power consumption of 40 watts on level 2, which is less than most light bulbs today.  
Flow Type
One of the things discussed in other Inogen g4 reviews is the flow type.  Inogen G4 uses Pulse dose flow settings.
This flow type is customized to your breathing pattern. It is breath-initiated, and the delivery speed is based on how often you breathe.
This function ensures that no oxygen is wasted and that you are given and using the oxygen you need. It is an excellent option for spending time outside your home or when traveling. 
Sieve Beds
The unit's sieve beds help the device create medical-grade oxygen. Without functioning sieve bed columns, your Inogen G4 is a glorified paperweight. It is responsible for transforming normal and ambient air into pure and medical-grade oxygen, effectively filtering out the impurities.
Depending on how frequently you use your POC and the climate in your area, your sieve beds can last up to 2 years max. 
Warm-Up Time
The POC only needs about 2 minutes to warm up. You can use it after that specified time. 
Oxygen Concentration
The G4 model of Inogen has a high oxygen concentration. It can provide 90% +/- 3% oxygen concentration in all settings. It is equipped with a "Low Oxygen" or "Low O2" sensor technology-it is a sound alarm indicating that the oxygen concentration is below the therapeutic range.
Capacity
The Inogen G4 has three pulse dose settings with different oxygen flow and capacities. This model can deliver 210 ml/min, 420 ml/min, and 630 ml/min of 90% pure oxygen. 
Sound Level
Inogen G4 is one of the quietest POC units you can find. At a pulse dose setting of 2, it has an operating volume of around 40 decibels.
That is equivalent to a quiet conversation or an average sound level at the library. You can undoubtedly use this at home and on the go.
Filters
Filters are necessary to keep the oxygen you inhale clean and free from dust, pet hair, dirt, allergens, and other air-borne contaminants. This model unit has an output filter behind the removable nozzle fitting. 
You will need to regularly check and clean the filter to ensure that it is not dirty or clogged. Remember that an obstructed filter can reduce oxygen delivery to the user. Clean and check it at least once a week to ensure ease of oxygen flow.   
Available Accessories
Inogen One G4 can come with a variety of accessories:
Particle filter

AC power supply

DC power supply

Nasal Cannulas

Inogen Connect mobile app
FAA-Approval
Long gone are the days when traveling overseas and planning out-of-town trips and vacations were just wishful thinking. Even with your respiratory condition, you can now travel long distances with Inogen One G4.
Inogen One G4 is a light and compact FAA approved portable oxygen concentrator unit that offers you the freedom to travel internally and domestically on a plane. It is the perfect, ideal weight and size for traveling, not to mention that it can come with a travel case as well. Just bring along some extra batteries so you can replace your current ones when they run out.
International Approvals
On June 1, 2017, the company gained internal approval to sell and distribute Inogen One G4 products internationally. It received an EC certificate which allows Inogen One to sell the POC in countries where it received regulatory clearance. 
The company had distribution agreements with several Latin American and European countries. There was also a GO signal to sell in New Zealand, Kuwait, Singapore, and Australia. Other countries like Spain, Portugal, Italy, and France require additional registrations before the product can launch there. 
Altitude
The Inogen One G4 is the smallest and lightest POC unit in the market, weighing less than 3 pounds with a standard battery mounted. This small and compact unit delivers oxygen through pulse dose settings at altitudes up to 10,000 feet for about 5 hours.    
Warranty
The Inogen One G4 has a standard 3-year warranty. It can protect you from defects in craftsmanship and save you from dealing with or suffering from any damaged device. 
You can file a warranty claim if you find damage or fault in your Inogen G4 that you know existed before the initial purchase. File it at the company's customer care team so they can assist you. 
Furthermore, you have a 1-year warranty on the batteries and 90 days for the other accessories. 
Manufacturer Country
Inogen One, the company that developed Inogen G4, is based in California. The product, including all other Inogen portable oxygen concentrators, is manufactured in the US. 
Price
Inogen G4's current price at our shop is $2,995.
Available Inogen G4 Discount
At Sprylyfe, we offer over 20% discount for Inogen One G4 products you buy from our shop. We also have promo packages available. Simply call our team at (855) 205 5010 for inquiries.
Inogen G4 Alternatives
This model might be one of the best POC units to date, but it does have its flaws, with the biggest being its short battery life. If you are looking for product alternatives that are not that different from Inogen G4, you can consider these:
If you are searching for an incredibly close alternative to the G4 unit, you can try Inogen One G5. It has most of the G4 unit's features, plus more remarkable battery life, more flow settings, and a quieter operating volume.
If you set it at the lowest setting, this unit can last up to 6 hours using a single battery and 13 hours with the double one. Instead of G4's three flow settings, this one has 6.
To top it up, this device only has a 38-decibel noise level. This device will undoubtedly better serve oxygen therapy patients who desire a more active lifestyle.
Read our Inogen One G5 Review
Caire FreeStyle Comfort is the latest pulse flow concentrator that CAIRE Inc released. It has a lightweight, compact, and ergonomic design that is comfortable and easy to carry. It is undoubtedly the perfect device to have if you want to walk in the park or take a trip across the world. 
The most appealing and stand-out feature of the device is probably its long battery life. At its lowest setting and with a 16-cell battery, this unit can last up to 16 hours. It is genuinely a standard for long-lasting battery life in the POC industry.
Respironics SimplyGo has two features that Inogen G4 does not have — long battery life and a continuous flow setting. Weighing only 15 pounds, this model is the first-ever POC unit with a continuous flow setting. It is no doubt the smallest and lightest continuous flow unit available in the market right now!.
It can easily fit underneath your airplane seat. You can also store it under the passenger seat of your car if you have a road trip coming up. Being equipped with both delivery modes, this device can undoubtedly meet all your oxygen needs.
FAQs About Inogen G4
Scroll through these frequently-asked-questions about Inogen G4 and see if your remaining questions are included!
How many liters of oxygen does the Inogen G4 produce?
At each pulse dose setting, the Inogen G4 generates a specific amount of oxygen. It can deliver up to 630 ml of 90% oxygen per minute.
At the lowest setting, it has a flow rate of about 210 ml. That number climbs up to 420 ml at the second flow setting. 
How long does the Inogen G4 battery last?
The Inogen G4 can last about 2.7 hours with a single battery. A double, extended battery can give you a few more hours, maybe up to 5 hours. 
Does Inogen G4 have continuous flow?
No, Inogen G4 is not continuous flow. It only offers pulse dose settings. If you want an Inogen product with continuous flow settings, you can look up Inogen at Home. It is an energy-efficient stationary oxygen concentrator that can give you up to 5 liters of oxygen per minute.
How quiet is the Inogen G4?
The average noise level of G4 is 40 decibels on a pulse dose setting 2, which is equivalent to a quiet conversation or noise level inside a library. 
How long do Inogen G4 columns last?
In most instances, Inogen G4 columns need to be replaced every 18 to 24 months. Though, there are certain operating conditions where you need to replace them much earlier.
Your device will let you know when they need to be changed by alerting you with a "Replace Columns" notification. This message indicates that the column pairs (sieve bed) need to be replaced within 30 days. 
Can you use the Inogen G4 while sleeping?
While the Inogen G4 portable oxygen concentrator is a pulse flow POC, you may still use it during the night while sleeping. It is possible because of its Intelligent Delivery Technology, a function that is sensitive to your breathing and is more efficient in delivering oxygen. 
How do I check my Inogen G4 hours?
To check your hours, turn on the machine. Have it run for at least 15 seconds before pressing and holding the bell button. Read the number displayed on the screen — it is the hours and minutes that the device has been running. 
Why does my Inogen G4 say low oxygen?
If your Inogen G4 is showing 'Oxygen Low' warnings, that means the oxygen purity is below 82%. The machine needs about 10 minutes to give an accurate measurement. Technically, it means that the concentrator is delivering oxygen at a slightly lower level. 
It will continue to operate normally, but if the error or warning persists, it might be best to either replace it or have a qualified technician check it. 
Get Your Own Inogen One G4 Now!
Inogen One G4 is an oxygen device that you can take anywhere and use anytime. This unit has bountiful benefits and unique features that make it stand out among the sea of competitors. It is a small but powerful device designed to operate seamlessly 24/7 to meet your oxygen needs.
If you want to experience using Inogen One G4, drop by
SpryLyfe
now. As a trusted online retailer, we offer only top-rated oxygen concentrators and products at an affordable price, including Inogen products. You may drop by our website anytime or call us at
(800) 314-8225 so we can assist you!