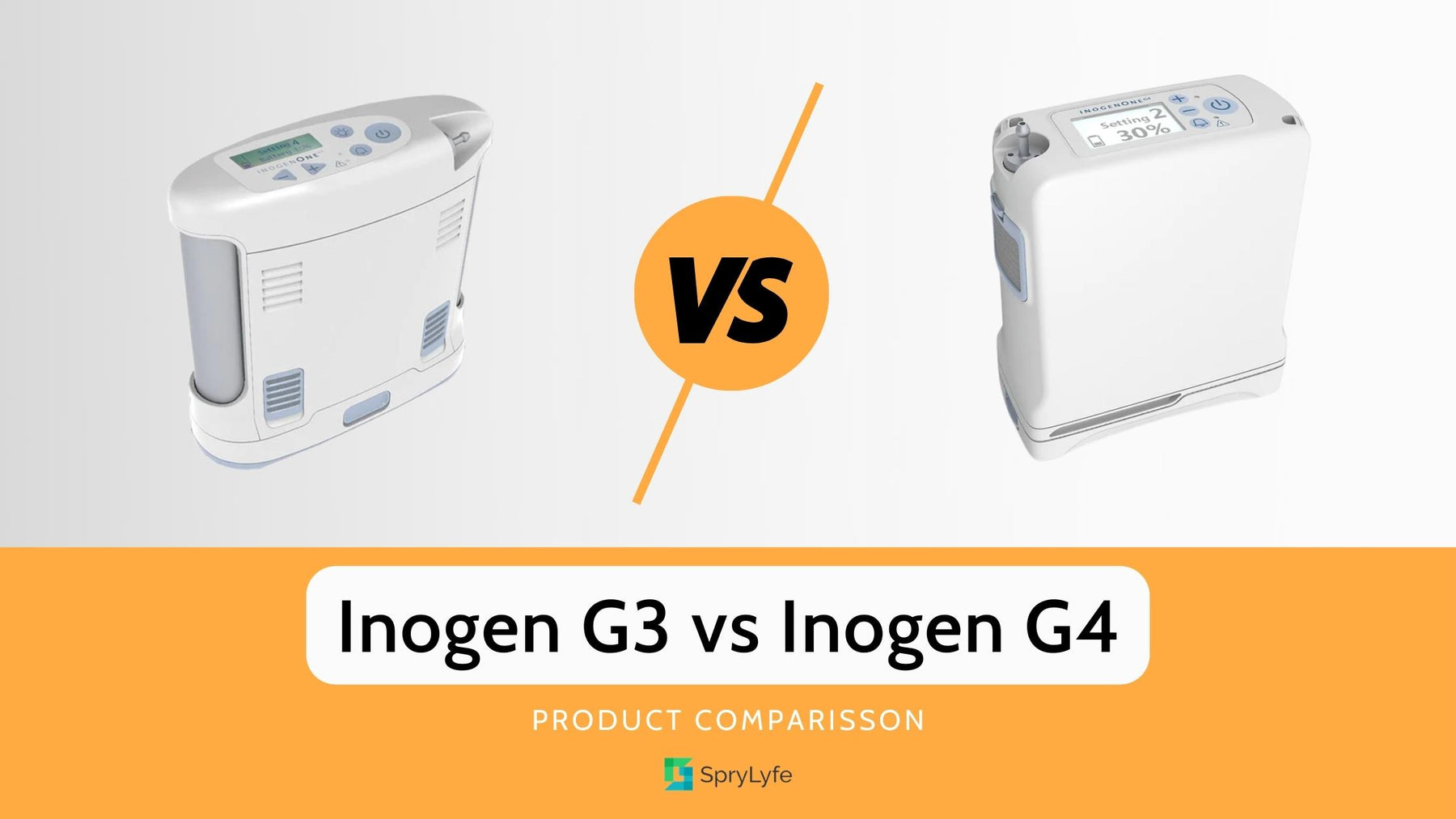 Inogen One G3 vs G4 Comparison (2023)
Ever wonder which unit would prevail in an Inogen One G3 vs Inogen One G4 battle? If you're one of those oxygen patients having difficulty deciding between these two Inogen One products, you've come to the right place.
Keep on reading to discover more about the differences between these two Inogen One models.
What Is the Difference Between Inogen One G3 and G4?
The main difference between these Inogen One products are the battery life, oxygen settings, and weight. The distinctions in these features primarily set the products apart.
Both Inogen One products have unique features that make them outstanding and better than other units in the market. They also have characteristics that can one-up the other.
The G4 is noticeably lighter than the G3, making it more portable and a better option for travel. The G3 might be heavier than the G4, but it has more pulse flow settings. Therefore, it is more flexible and convenient for oxygen therapy patients. It can meet stronger oxygen needs and offers more variation in oxygen settings. 
Inogen One G3 vs. G4: Side-by-Side Comparison
The G3 and G4 products have several similarities and differences between them. To help you visualize the likeness and distinctions of the units, here is an Inogen one g3 vs one g4 comparison guide that summarizes the vital features of both Inogen One products.  
Inogen One G3

Inogen One G4

Oxygen Settings

Pulse Flow Setting: 1-5 Continuous Flow Setting: Not supported

Pulse Flow Setting: 1-3 Continuous Flow Setting: Not supported

Weight

4.8 lbs (2.2 kg)

2.8 lbs (1.27 kg)

Dimensions

8.25H x 3.0W x 8.25L

7.2H x 2.68W x 5.91L

Operations

Simple control functions with an easy-to-read LCD screen and display

Simple control functions with an easy-to-read LCD screen and display

Inogen Connect

Not available

Available 

Power

AC Power Supply 100-240V, 50-60Hz (auto-sensing for worldwide use) 

DC Power Cable: For mobile use

AC Power Supply 100-240V, 50-60Hz (auto-sensing for worldwide use) 

DC Power Cable: For mobile use

Battery Duration

At lowest setting: Up to 4.5 hours (with 8-cell) and 9.5 hours (with 16-cell)

At lowest setting: Up to 2.6 hours (with 8-cell) and 5.0 hours (with 16-cell)

Battery Charging Time

Single Battery: 2-4 hours with AC/DC Power

Double Battery: 4-8 hours with AC/DC 

Single Battery: approximately 3 hours with AC/DC Power

Double Battery: 5 hours with AC/DC 

Maximum Oxygen Output Capacity

1050ml/min

630ml/min

Noise Level

39 decibels

40 decibels

Altitude Capacity

Up to 10,000 ft

Up to 10,000 ft

FAA-approval

Yes

Yes

Warranty

3 Years on the Oxygen Unit and 90 days on the accessories 

3 Years on the Oxygen Unit and 90 days on the accessories 
Inogen One G3 Review
The Inogen One G3 is a small, battery powered, lightweight oxygen unit 2 pounds lighter than its predecessor, the Inogen One G2. This unit comes with pulse mode oxygen therapy with several features and accessories.
Pros
Portable

FAA-Approved

Intelligent Delivery Technology

Low Noise Level (39 decibels)
Cons
No Continuous Flow Setting

Standard Filter Only
Read our editorial review of the Inogen One G3 here.
Inogen One G4 Review
The Inogen One G4 is a compact and easy-to-carry medical device that embodies portability. Despite its small size, this oxygen unit is loaded with valuable features and offers several benefits. With its portability and strong flow delivery, you can have the freedom to travel just about anywhere.
Pros
Low Noise Level (40 decibels)

Portable

Simple User Control

FAA-Approved
Cons
Short Battery Life

No Continuous Flow Setting
Read our in-depth review of the Inogen One G4 here.
Inogen G3 vs. G4: Side-by-Side Features Comparison
Inogen One is one of the biggest names in the oxygen industry. Their product portfolio comprises only high-quality oxygen units that provide the best comfort and convenience. Amongst their top-of-the-line products are the G3 and G4.
Both Inogen One products have their fair share of similarities and differences. Here is a comparison review and guide on the Inogen one G3 vs G4.
Design
Both Inogen One products are petite, lightweight, and can be easily put inside a bag you can carry along for daily activities. The Inogen One G4 has a modern, minimalistic unit body that can pair well with your outfit.
It does not look medical, which works well if you like to travel and go around. The G4 looks sleeker and is more stylish than the G3.
On the other hand, the Inogen One G3 has a more traditional oxygen concentrator appearance. It is compact, with sieve beds positioned outside the unit's body. They are installed in a single column at the front side of the G3. 
Size and Weight
While G3 and G4 have many similarities, the weight and size are areas where they differ. Both units are compact and small, which makes delivering oxygen to users while on the go much more manageable. However, the G4 is notably much smaller and lighter than the G3.
While the Inogen One G3 weighs only 4.8 pounds, the Inogen One G4 cuts that number in almost half, coming in at a mere 2.8 pounds. It is to be expected that G4 has smaller dimensions than G3. 
Portability
Both Inogen One products scream portability with their lightweight and easy-to-carry design. For the users' further convenience and comfort, both oxygen concentrators have carry bags that make transportation less of a hassle. 
The carry bags are custom fit to carry the Inogen One unit of your choice to ensure safe transport and secure fit. Furthermore, the bags have padded interiors and shoulder straps that make traveling with them much more comfortable. It also has a zipper down the side that can help adjust and charge the batteries while leaving the oxygen unit inside the bag.
LCD screen
The G3 and G4 oxygen units are user-friendly with LCD screens, large buttons, and easy-to-adjust and navigate settings. Their LCDs allow you to change the unit's settings with no problem. 
Inogen Connect
Inogen Connect is an app that enables users to monitor their oxygen concentrators through their phones closely. It is a relatively new feature that debuted in the Inogen One G4 unit. Since G3 was released before G4, it does not contain this specific feature. 
The Inogen Connect allows users to:
Check the battery life.

Receive maintenance reminders.

Have easy access to FAQs, user manuals, and troubleshooting tips.

Get the latest software updates.

Monitor column life status.

Perform column resets whenever they replace columns.
Controls
Both Inogen One models have easy controls to navigate and operate. Like any other POC unit, they have a basic control panel with simple control functions and LCDs. 
Alarms
Inogen One G3 and Inogen One G4 utilize the intelligent alarm system to indicate a malfunction in the POC unit. Several things can trigger the alarms, including special warnings, low priority, medium priority, and high priority errors. 
In the case of multiple errors and alarms, the LCD will display the highest priority alarm. It will also display notification messages with accompanying single, short beeps. You can find the meaning of all message texts on the user manual that will come with your unit.  
Sound Level
The noise level during operation is another area where these products differ, though not much. The G3 has a low sound level of 39 decibels, while G4 can emit 40 decibels of noise at its highest setting. Those noise levels are barely noticeable in public and can be compared to the noise in the library.  
Battery
The Inogen POC units use rechargeable Lithium-Ion batteries. The battery options were single batteries (8 cell) and double batteries (16 cells). 
Battery Life
So while both models allow single and double batteries, the battery length will depend on the design and unit. The single batteries can last about 4.5 hours for an Inogen One G3.
Using double batteries can make them last for an incredible 9.5 hours. Though, note that this is for the lowest setting. A pulse dose setting five can last for 1.7 hours (single) and 3.3 hours (double).
The Inogen One G4 has a shorter battery life. At its lowest setting, it can last almost 3 hours, while a double battery can make it last for about 5. At the highest setting, it can run for 1.3 hours (single) and 2.5 hours (double).
Charging Time
For an Inogen One G3, a single battery takes about 2-4 hours to charge via AC DC power supply. With a double battery, it can take up to 9 hours.
Meanwhile, the single battery of a G4 has a charging time of approximately 3 hours. Its double battery takes about 5 hours. 
Power Sources
G3 and G4 are fitted with an AC/DC power source that permits you to charge the lithium-ion batteries. 
Power Consumption
These Inogen models differ in power consumption. The petite Inogen One G3 does not need much energy to start with. It runs on 19-50 watts of power. 
The same goes for the Inogen One G4. It is energy efficient with average power consumption (for Level 2) of 40 watts, less than most light bulbs. 
Flow Type
The Inogen products offer pulse flow oxygen delivery which releases bursts of oxygen each time the device detects breathing. This oxygen delivery type is typical in smaller oxygen compartments.  
The G3 has five different pulse dose flow settings, while the G4 has 3. Both units use an Intelligent Delivery Technology system which ensures quicker oxygen delivery for a better impact on the lung gas exchange.
Sieve Beds
The G3 model has external sieve bed columns instantly visible. It is arguable that being external made it easier to replace. Inogen One, however, made its products as convenient as they could. The G4 has internal sieve beds that can be just as easily replaced as the external sieve beds of G3. 
Warm-Up Time
Following a brief and short start-up sequence, both devices only need 2 minutes to warm up before they are ready for use. However, note that the devices might need extra warm-up time if you stored them in cold temperatures. 
Oxygen Concentration
The Inogen devices deliver the same amount of oxygen concentration; 90% (+6%/-3%) oxygen at all settings.
Capacity
Since these models have different flow settings, they are also expected to have different maximum oxygen output capacities. Inogen One generates a particular amount of oxygen (210 ml) at each flow setting.
G3 has up to 5 pulse settings, allowing it to deliver up to 1050 ml/min or about 1.05 liters per minute. As for G4, it can deliver up to 630 ml/min or 0.63 liters per minute. Both units have an oxygen purity of 90%. 
Earlier models of G3 have only four pulse settings with a maximum capacity of 840 ml/min. 
Filters
G3 and G4 have filters that intend to protect users from small particles. Their product filters are conveniently located behind the removable cannula nozzle fitting of the device. 
Available Accessories
G3 and G4 have sets of accessories that are available for their unit. Though, most of them do overlap with each other. Here is a breakdown of what accessories you can avail for your Inogen One models:
Accessories available for Inogen One G3 unit:
Single Battery (8 cell battery)

Double battery (16 cell battery)

AC Power Supply

DC Power Cable

Custom Backpack

Particle Filter

External Battery Charger
Accessories available for Inogen One G4 unit:
Single Battery (8-cell battery)

Double battery (16-cell battery)

AC Power Supply

DC Power Cable

Custom Carry Bag/Case

Shoulder Strap

External Battery Charger 

Particle Filter

Hip Bag

Inogen One G4 Backpack
FAA-Approval
Inogen One G3 and G4 are both FAA-Approved medical-grade oxygen devices that you can safely carry and bring on your next out-of-the-country trip. They both meet the guidelines set by the FAA for onboard use. 
International Approvals
Inogen One G3 and Inogen One G4 are approved to be distributed worldwide. The G4, in particular, received approval for international distribution on June 1, 2017. Aside from being FAA-approved, both models are US FDA-approved and CE-certified. 
Altitude
Both POC units can deliver oxygen through pulse dose delivery settings at altitudes up to 10,000 ft. 
Warranty
The G3 and G4, like most Inogen One products, have a limited three factory-year warranty. This limited-time warranty can protect you against defective products and save you the trouble and money of having them repaired. 
The batteries have one-year warranties, while the accessories come with 90 days warranties. 
Manufacturer Country
The company that manufactured and developed G3 and G4, Inogen One, is mainly based in California. The products, including these two POC units, are manufactured in the US. 
Price
Over at SpryLyfe, the Inogen One G3 and G4 both cost $2,995. This amount will vary depending on the website or online retailer you purchase the units from. 
Available G3 and G4 Discount
Some online shops offer valuable discounts and sales for specific products. SpryLyfe, in particular, offers up to a 25% discount on all their portable Inogen One oxygen concentrators, including the G3 and the G4.
Who Should Buy the Inogen One G3?
The Inogen One G3 is a top-quality portable concentrator used on a prescriptive basis by oxygen therapy patients with high oxygen needs. This POC unit delivers a high oxygen concentration through the nasal cannula to the user. 
With a max oxygen capacity of 1050 ml/min and five pulse settings, this medical-grade concentrator can help reduce COPD symptoms (Chronic Obstructive Pulmonary Disease). It is an excellent device to pair with high oxygen needs. Also perfect for those who love to exercise and do adventurous activities. 
You can try this if you are an oxygen patient with a pretty active lifestyle. The Inogen One G3 has a long battery life that is ideal for long trips and travels away from home. Pair that with its lightweight design, and you have a recommended device for oxygen therapy patients who love traveling and moving around.  
Who Should Buy the Inogen One G4?
Inogen One G4 is designed specifically for oxygen users with low and mild oxygen needs. It is also perfect for those looking for small, compact, and light portable oxygen units that they can carry anytime and anywhere.
G4's portable size and weight can empower its user to do daily activities and errands outside the comforts of their home. They can visit family, go grocery shopping, work at the gym, and take a much-awaited vacation.
This oxygen device provides a mildly high concentration of supplemental oxygen, 630 ml/min, that can meet the needs of some respiratory patients. You can easily carry this oxygen device around thanks to its lightweight and compact design. Moreover, it operates quietly, making it an excellent choice for those needing to use POC units at night.
Factors To Consider When Selecting a Portable Oxygen Concentrator
There are various factors to consider when selecting your portable oxygen concentrator. It is important to note that every POC model is different, regardless of company and country.
For instance, an Inogen One G5 is different from an Inogen G3 and G4. They have features and factors that vary from each other. 
Take these factors into deep consideration to be able to choose the perfect unit for you. You must consider weight, size, oxygen concentration, noise level, warranty, capacity, flow delivery, and price. 
You can check out this guide for further details on these factors. 
Take Your Pick
The jury is still out regarding the winner of the Inogen One G4 vs G3 battle. It shows that you can never go wrong with these Inogen models. Both oxygen units provide an efficient and reliable source of supplemental oxygen that is much more accessible than bulky oxygen tanks.     
Whether you choose the heavier G3 with more pulse settings and longer battery life or the lighter G4 with a more compact design — the decision falls on your lifestyle needs and personal preference. 
For
high-quality Inogen One products
, you can visit us at
SpryLyfe
. We have both the G3 and G4 available and discounted for you! Regardless of your chosen model, you can still enjoy a fun-filled life with your portable oxygen concentrator unit.