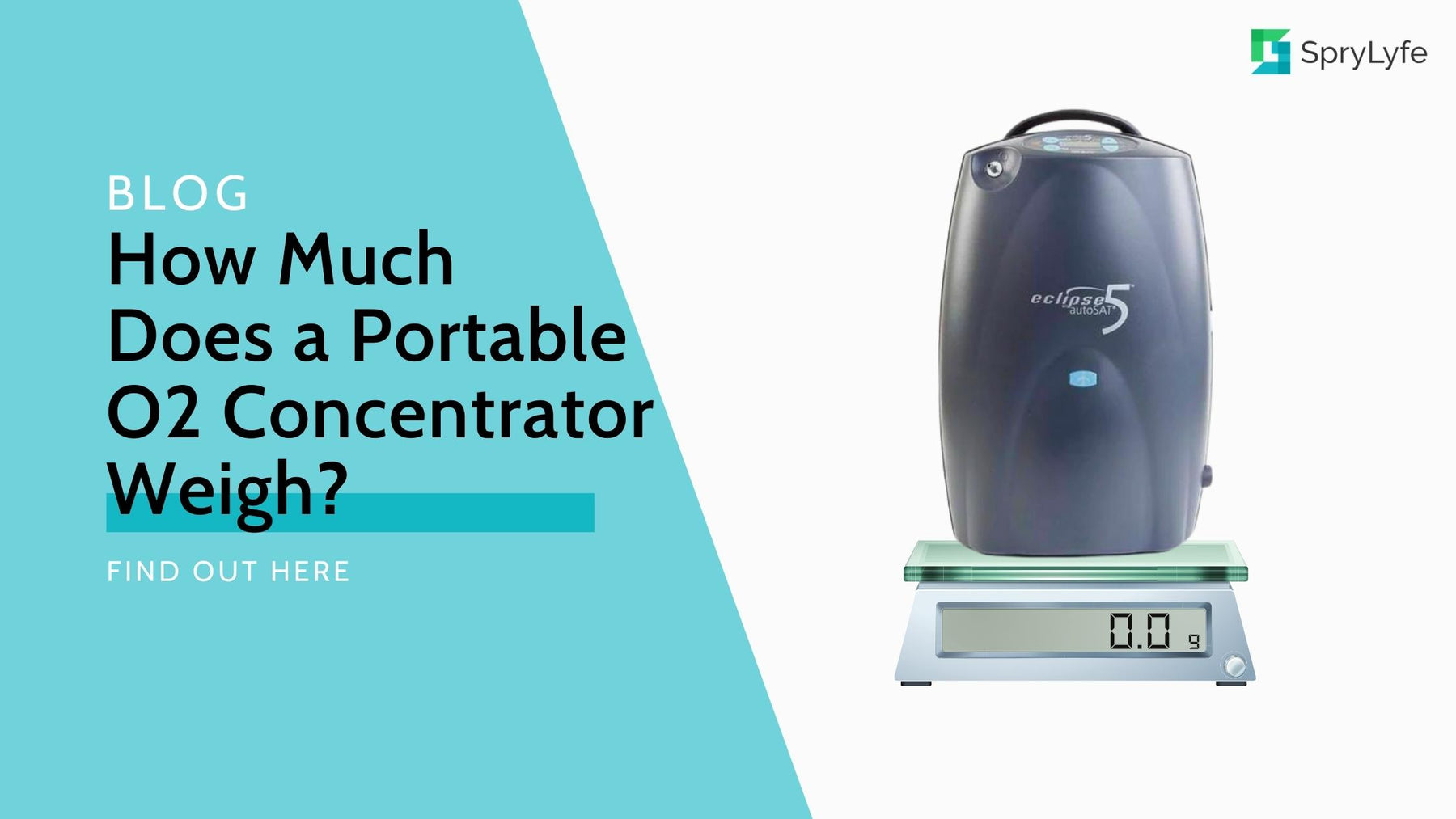 How Much Does a Portable Oxygen Concentrator Weigh?
For oxygen therapy patients who want an active lifestyle, 'how much does a portable oxygen concentrator weigh' is a vital question to consider and ponder. Why is that the case, though?
Read through this article to know the answer!
How Much Does a Portable Oxygen Concentrator Weigh (on Average)?
Portable oxygen concentrators are generally lighter and smaller than any other oxygen device. If you dive into the oxygen concentrator industry, you will find that the average weight is between 5 to 10 lbs. While a good chunk of portable units fall in this range, you wouldn't have trouble finding ones that are lighter or heavier. 
There are POC units under 5 lbs. They are the smallest of them and are typically travel-size. POCs heavier than 10 lbs are physically larger and commonly come with wheels or a cart. 
Portable Oxygen Concentrators Weight by Size
Portable oxygen concentrators are not a one size fits all scenario. Each unit is different and each model is unique. The size and weight differences of portable concentrators are related to the oxygen flow that it delivers and the battery life.
That is why stationary or home concentrators weigh more than POCs. It is also why they have longer battery life. If you start looking into various portable oxygen concentrators online, you will find that there are small, medium, and large concentrators. 
Small Portable Oxygen Concentrators
Portable concentrator units of the smallest size often weigh around 5 lbs. It is with or without external batteries mounted. While they are the most portable and mobile, keep in mind that they have the lowest oxygen capacity. It is not ideal for patients with high oxygen needs to settle for a small portable concentrator. 
Also, they tend to have shorter battery life. It would be wise to bring extra batteries just in case. 
Medium Portable Oxygen Concentrators
Medium-sized portable concentrators weigh between 6 and 10 lbs by themselves, or with the external battery mounted. They are physically bigger than small portable concentrator units and have higher amounts of oxygen capacity. They are still great for traveling and transport. 
Large Portable Oxygen Concentrators
Large concentrators typically weigh over 10 lbs. They have the largest oxygen capacity amongst portable concentrators. They also have the capacity to provide as much as 10 liters per minute.
Typically, a POC with this weight has continuous flow delivery options. There are a few who have dual-use or purpose, having both continuous and pulse dose delivery modes. 
These POCs often feature a convenient rolling cart or a strap system to make transport and travel more effortless. Large POC units have bigger compressors and batteries. 
18 Portable Oxygen Concentrators From Lightest to Heaviest
There are countless portable concentrator units available on the market — all of which differ in weight and size. To help you make your decision, here is a list of some of the top-rated POC units in the oxygen delivery industry!
| | | | |
| --- | --- | --- | --- |
| Product name | Brand | Description | Weight (in lbs and kg) |
| | CAIRE | The lightest and most portable oxygen concentrator on the market! It can last for 3 hours at a flow setting of 2.  | 1.75 lbs / 0.8 kg |
| | Inogen | It is one of the lightest, smallest, and quietest POC units you will encounter! It has a 1-3 flow setting and two battery options.   | 3.3 lbs / 1.5 kg |
| | Lifestyle Mobility Aids | It is a light and compact POC you can use 24/7 with a flow setting of 1-5.  | 4.37 lbs / 1.98 kg |
| | Inogen | The latest POC unit Inogen has to offer! It is a reliable and quiet lightweight concentrator that goes up to a flow setting of 6.  | 4.7 lbs / 2.1 kg |
| | Inogen | It is a POC jam-packed with luxurious features that allow 24/7 supplemental oxygen delivery.  | 4.8 lbs / 2.1 kg |
| | CAIRE | This POC unit offers great functionality and comfort with its 1-5 flow setting, low noise level, and long battery life. | 5 lbs / 2.2 kg |
| | ARYA | A newly-released POC with five flow settings, a lightweight package, and an unmatched 5-year warranty on their sieve bed! | 5 lbs / 2.2 kg |
| | DeVilbiss | The first-of-its-kind auto-adjusting portable concentrator with patented SmartDose Technology | 5 lbs / 2.2 kg |
| | Respironics / Philips  | It is a small powerhouse POC unit that is user-friendly, sleek, reliable, and stylish!  | 5 lbs / 2.2 kg |
| | Precision Medical | This portable concentrator has a Vacuum Pressure Swing Adsorption Technology that ensures that each sieve bed is rejuvenated during every cycle!  | 5 lbs / 2.2 kg |
| | GCE | A user-friendly small oxygen unit perfect for long-term oxygen therapy patients with 5 flow settings.   | 5.5 lbs / 2.5 kg |
| | ResMed | ResMed Mobi is an innovative POC with an easily adjusted 1-4 flow setting and an informative screen that displays all the necessary information you need! | 5.5 lbs / 2.5 kg |
| | O2 Concepts | It is a highly advanced POC unit with some of the best features in the market; a state-of-the-art sieve bed system and the latest DNA technology that can optimize its performance | 5.8 lbs / 2.6 kg |
| | Inogen  | One of the first oxygen units released by Inogen, this unit has a full range of exceptional features.  | 7 lbs / 3.2 kg  |
| | Respironics / Philips | One of the first POC units that offer both continuous flow and pulse dose delivery modes!  | 10 lbs / 4.5 kg |
| | GCE | A dual-use oxygen device with both pulse flow and continuous flow oxygen delivery! It has a 1-6 pulse flow setting and a 1-2 continuous flow setting.  | 10.25 lbs / 4.6 kg |
| | CAIRE | It is an all-around POC unit that is built for heavy use. It can deliver up to pulse flow setting 9.   | 15 lbs / 6.8 kg |
| | O2 Concepts | A versatile POC that offers both continuous and pulse flow settings. It has a strong magnesium case and a long battery life with an integrated travel cart for easy transport!  | 16.7 lbs / 7.8 kg |
3 Lightest Portable Oxygen Concentrators
For patients with COPD or other respiratory conditions, a portable concentrator is often prescribed to help them manage their symptoms. There are several types of POCs available today, but if you want to maintain an active lifestyle, you need to look for the most lightweight units. 
Here are 3 of the lightest portable concentrators!
AirSep Focus is the smallest POC unit you will find on the market. It is a product that helps active oxygen therapy patients who need little supplemental oxygen to carry on with their daily routine. It is impressively light, weighing only 0.8 kg.
This compact, palm-sized monster has ultra sense technology that does not miss to detect the user's breath. It is easy to use and also smart to carry. The battery is separate to the device and weighs about 0.2 kg. Despite the additional battery weight, it still remains the titleholder for being the lightest portable oxygen concentrator.
Pros:
Extremely lightweight

FAA Approved

Ultra sense technology

Total battery back-up of seven hours
Cons:
Battery is separate and not inside the machine

Flow is limited
This POC unit is prescribed to oxygen patients that need supplemental oxygen therapy. The portable concentrator delivers a high oxygen concentration through a nasal cannula. 
Inogen One G4 is the lightest POC ever produced by the company. You can move this POC around with its weight of only 2.8 lbs (3.3 with batteries). It is small enough to carry virtually anywhere without experiencing any physical strain on your body. It is the perfect travel buddy and companion to have.
It is less restrictive with its oxygen settings, making it hard for competitors to keep up .The battery is what contributes to the unit's weight. It can accommodate two different batteries — single battery or double battery. 
Pros:
Lightweight

Carry bag with comfortable padded shoulder straps

FAA Approved

Can run 24/7
Cons:
Flow is limited

Short battery life
If you're looking for a light and portable concentrator with a wider range of pulse flow settings, you can definitely consider Rhythm P2. With a weight of only 4.32, this POC unit can satisfy your precise supplemental oxygen needs.
This POC weighs less than most concentrators, even with batteries on. It promises more mobility and freedom, which oxygen patients desperately need. You can expect this compact device to propel you forward to achieve your mobility dreams. 
Pros:
Protective carry case

More flow setting

Simple and easy-to-read display screen

FAA -approved
Cons:
Accessories are a little expensive
Read our more detailed guide: Lightest Portable Oxygen Concentrators Comparison Guide
3 Heaviest Portable Oxygen Concentrators
If there are light POC units, there are also heavy ones. While many might see this as a disadvantage, there are some that don't mind the extra weight, especially since it often means longer battery life. There is also the fact that most heavy POCs have mobile carts or wheels to help with the weight.
Here are 3 of the heaviest portable oxygen concentrators you can find!
This POC is unlike any other, with its impressively robust magnesium case, integrated travel cart, and handle. It is a perfect solution for active patients. It heavily promotes independence and mobility, with its dynamically balanced cart and a handle. With this, you can constantly be on the move and on the road.
It holds two batteries, which contributes to the weight of the portable concentrator, which is somewhere around 16.7 lbs. Though, with the wheels and handle, it feels almost weightless. It has large recessed wheels, which allow you to pull it even on the most uneven terrain.
Pros:
Pulse and continuous flow oxygen options

Integrated with wheels and handle

Easy to use

Optional Dynamic Network Analysis 
Cons:
Heavier than others

Need frequent filter changes
If energy efficiency is one of your top priorities in choosing a POC, SeQual Eclipse 5 might be the perfect fit. It is hands down, one of the most energy-efficient units with long-lasting batteries in the industry.
It has a pulse dose delivery flow of 1-6 LPM and batteries that can last to 5 solid hours. Although, this battery life comes with a consequence — it leans on the heavier side of POC units with 15 lbs weight. Fortunately, it comes with a cart that you can easily wheel around.
Pros:
Great battery life

Pulse and continuous flow oxygen options

Come with travel cart that has oversized wheels, telescopic handle, and elevated platform

Designed for the US Military
Cons:
Heavier than others

A little noisy
GCE's Zen-O was released sometime in 2016 and has continuously proven to be very reliable and dependable. This POC provides a continuous flow of up to 2 LPM and a pulse flow of up to 6 LPM. It comes with the standard carry bag, AC/DC adapters, and a slim mobile cart. 
It weighs 10.2 lbs, which is not a problem since it offers a mobile cart and accessory bag for easy travel and transport. It comes with two batteries, which contributes to the device's weight. 
Pros:
Pulse and continuous flow oxygen options

Easy to Use

FAA Approved

Rate and responsive therapy technology
Cons:
Heavier than others

A little noisy
Why Is Weight Important When Buying a Portable O2 Concentrator?
Weight is a vital factor when choosing a portable concentrator, which is why it's something that you will need to consider. Here are the benefits of buying a portable oxygen concentrator that's light and easy to carry.
1. Mobility
Generally speaking, most are not satisfied with the weight of their oxygen device. These machines are undoubtedly heavy, which limits your ability to move freely. The more weight you carry, the more energy you exert — and ironically, you will need more oxygen to compensate for that. 
That is why weight should be a factor to look into. Since you need supplemental oxygen to manage your respiratory-related symptoms, you will need your oxygen device near you. That is not just possible with larger oxygen machines like oxygen tanks or cylinders. It hinders your mobility. 
2. Travel
If you have an active lifestyle and a love for traveling, you need a POC with the right weight. Dragging a heavy oxygen device is not just ideal if you are constantly on the road. Lightweight POC units are perfect for traveling around since you can carry them easily and pack them inside a suitcase.
3. Convenience
One of the main reasons people choose portable oxygen concentrators is due to the convenience they offer. Most portable concentrators do not need additional equipment like wheeled carts to bring them around. Since they are light, you can throw them inside your backpack or shoulder bag with no problem. 
4. Space
Large and heavy oxygen devices, like stationary oxygen concentrators, need space in your house. That is one of the unfortunate downsides of them. They are not easy to store and would stand out often. 
Since portable concentrators are small and lightweight, they naturally take less space. You can store them inside a cabinet or on top of a drawer. Even the heaviest portable concentrators do not need as much space as a home concentrator. 
5. More Freedom and Independence
The lighter the POC is, the more freedom and independence you have. With a light POC, you would not have much trouble carrying them around. May it be a walk to the park or a stroll in a mall. Patients with light POCs can lead more active and energetic lives.
FAQs About Portable Oxygen Concentrators
Refer below to the frequently-asked-questions about portable concentrators regarding weight.  
What is the lightest weight of a portable oxygen concentrator?
AirSep Focus has the lightest weight of a portable oxygen concentrator! Weighing only 1.75 lbs (without batteries), this POC is easily the most compact unit available! With mounted batteries, it weighs around 2.2 lbs, which still remains the lightest weight. 
What is the heaviest weight of a portable oxygen concentrator?
The heaviest weight of a portable oxygen concentrator is Oxlife Independence at 16.7 lbs. It becomes heavier when it includes batteries and the integrated cart. With both, the device's weight becomes 21.5 lbs or 9.8 kg. 
Looking For The Perfect Portable Oxygen Concentrator?
A portable oxygen concentrator is a device that delivers supplemental oxygen to people with COPD or breathing disorders. You can undoubtedly breathe better, have fewer restrictions, and enjoy more independence and freedom with a light POC unit. Therefore, knowing "how much does a portable oxygen concentrator weigh" would be a great help for you.
Like most oxygen devices, POC also comes in various weights and sizes. Each has its own unique features and characteristics. You will have to find the perfect fit for you.
Browse our portable oxygen concentrator collection at SpryLyfe if you want to shop for your own POC. If you're not sure what to choose, read our guide or call us at (800) 314-8225 so one of our respiratory specialists can assist you.